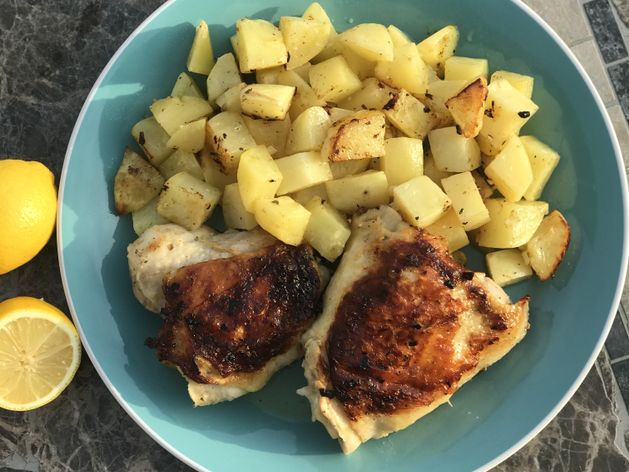 CUSTOM COOK
Greek Lemon Chicken and Potatoes
Key: WPP-FEU-PJP
About this Custom Cook
This custom cook takes the existing chicken thigh and potato combo cook and adds a delicious Greek twist by adding lemon, oregano and garlic. Note that this cook may produce a bit of smoke in your Brava while cooking (this is okay!) due to the marinade. The skin on the chicken gets super crispy while the meat stays juicy. This may be my new favorite way to make chicken in Brava!
Ingredients:
3 garlic cloves, minced
3 tablespoons lemon juice
3 tablespoons olive oil
1 teaspoon kosher salt
1/2 teaspoon dried oregano
1/4 teaspoon black pepper
3 ½ cups diced Yukon Gold potatoes (1-inch pieces)
2 bone-in, skin-on chicken thighs
Instructions:
1. In small bowl, combine garlic, lemon juice, olive oil, salt, dried oregano and black pepper.
2. In large bowl, combine potatoes with 2 tablespoons of lemon garlic mixture.
3. Place potatoes in Zones 2 and 3 of Brava metal tray.
4. To large bowl, add remaining lemon garlic marinade and chicken thighs. Toss chicken with marinade.
5. Cover bowl with plastic wrap and refrigerate chicken for 5 minutes.
6. When ready, remove chicken from marinade, shaking off any excess marinade. (Note: it is important to thoroughly shake off the marinade as excess marinade will burn.)
7. Place chicken, skin side down, in Zone 1 of Brava metal tray.
8. Slide metal tray into bottom shelf.
9. Select "Greek Lemon Chicken and Potatoes" on your Brava touchscreen and follow instructions.