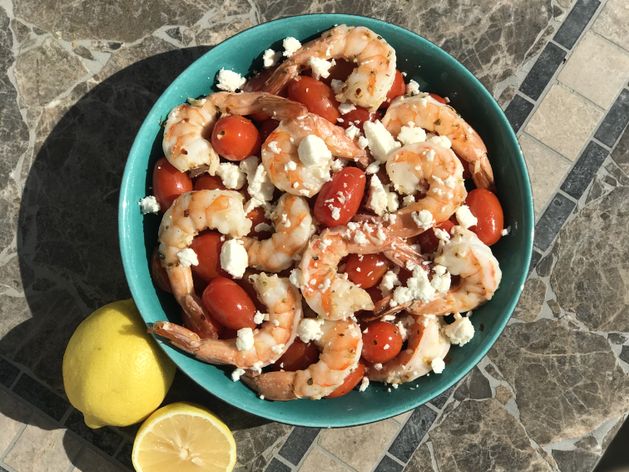 CUSTOM COOK
Greek Shrimp with Cherry Tomatoes
Key: TPT-PCE-CAR
About this Custom Cook
This custom cook is an easy way to add a ton of flavor to the shrimp and cherry tomato combo cook. This recipe was inspired by the Greek dish Shrimp Saganaki, where tomatoes are stewed together with shrimp and herbs then topped with feta cheese. This is an easier version to make that still packs in a ton of flavor. This dish is delicious served on its own or served with some crusty bread on the side.
Ingredients:
3 cups cherry tomatoes
1 tablespoon plus 2 teaspoons olive oil
1 teaspoon dried oregano, divided
2 garlic cloves, minced, divided
1/2 lb peeled and deveined shrimp (12–14 medium/large shrimp)
¼ teaspoon crushed red pepper (optional)
1 tablespoon lemon juice plus extra lemon wedges to serve
¼ cup feta cheese
Instructions:
1. In medium bowl, toss together cherry tomatoes, 1 tablespoon olive oil, 1/2 teaspoon dried oregano, half of minced garlic and a pinch of salt.
2. Evenly spread cherry tomatoes in Zones 2 and 3 of metal tray.
3. Pat shrimp dry with paper towels.
4. In medium bowl, toss shrimp together with 2 teaspoons olive oil, ½ teaspoon dried oregano, remaining half of minced garlic, crushed red pepper and a couple pinches of salt.
5. Evenly spread shrimp in Zone 1 of Brava metal tray.
6. Slide metal tray into top shelf.
7. Select "Greek Shrimp with Cherry Tomatoes" on your Brava touchscreen and follow instructions.
8. When cook is completed, carefully remove metal tray.
9. In serving bowl, toss shrimp and cherry tomatoes together with 1 tablespoon of lemon juice. Sprinkle feta cheese on top.
10. Serve with lemon wedges.