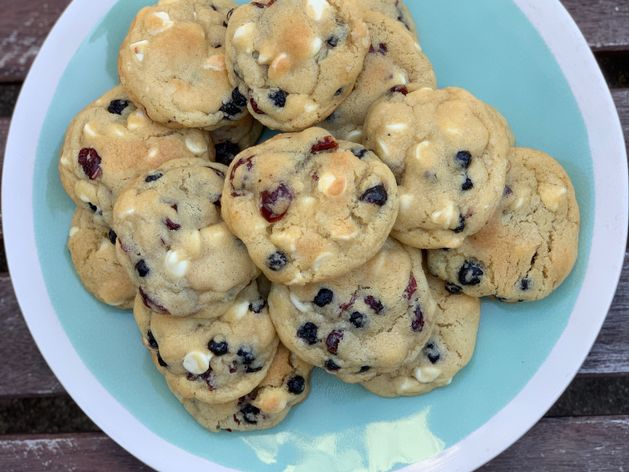 CUSTOM COOK
Red White & Blue Cookies
Key: RMP-FXJ-MTX
About this Custom Cook
Prep Time: 15 minutes plus 30 minutes to rest dough
Bake Time: 11 minutes
Total Time: about 1 hour
These red, white and blue cookies are the perfect treat for the Forth of July! Dried cranberries, dried blueberries and white chocolate chips are added to give these cookies their American colors. The addition of brown sugar adds subtle hints of molasses and softer, chewier texture.
1 1/3 cups all-purpose flour
1 teaspoon cream of tartar
1/2 teaspoon baking soda
1/2 teaspoon kosher salt
1 stick (1/4 lb) unsalted butter, softened
1/4 cup light brown sugar, packed
1/2 cup granulated sugar plus 2 tablespoons for rolling
1 egg
1 teaspoon vanilla extract
1 cup white chocolate chips
1/2 cup dried blueberries
1/2 cup dried cranberries
1. In medium bowl, stir together flour, cream of tartar, baking soda and kosher salt.
2. In another large bowl, either with a standing mixer or hand mixer, cream butter and sugars until light and fluffy, about 3 minutes.
3. Add egg and vanilla to butter mixture and mix well.
4. Gently stir flour mixture into wet ingredients and mix for 30 seconds to thoroughly blend dough.
5. Add in white chocolate chips, dried blueberries and dried cranberries. Combine (do not overmix).
6. Cover dough and refrigerate for at least 30 minutes before forming balls.
7. Line Brava metal tray with parchment paper.
8. Scoop about 1 1/2 tablespoons dough and, using your hands, roll into ball and transfer to metal tray. You should have 2 dough balls in each zone.
9. Press green button to begin preheating. When Brava notifies you, slide metal tray into top shelf and press green button to begin baking for 11 minutes.
10. When your food is done, cool cookies on metal tray for 5 minutes, then transfer to wire rack to cool completely.