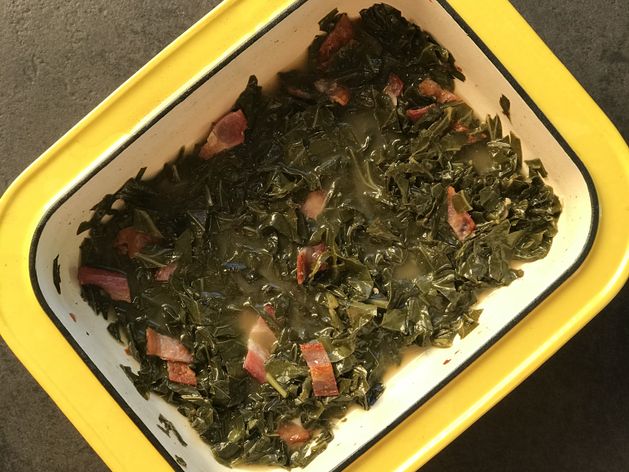 CUSTOM COOK
Collard Greens with Bacon
Key: LJW-WCC-JYA
About this Custom Cook
Is there any better way to eat collard greens than to have them cooked low and slow with pork? This custom cook uses Brava's slow cook feature to cook the greens with bacon. In this custom cook I used some precooked bacon (don't forget to save the bacon grease!) to add to the greens, but you could also use precooked fatback, ham or any meat of your choice.
Ingredients:
7 cups collard greens, stems removed, cut into 1" wide ribbons (about 2 bunches)
2 slices cooked bacon cut into 1/2" pieces, plus their cooking grease
2 tablespoons cooking oil
1 tablespoon plus 1 teaspoon granulated sugar
1 teaspoon salt
1/2 teaspoon black pepper
1/4 teaspoon crushed red pepper (optional)
2 cups chicken stock
2 teaspoons apple cider vinegar
Instructions:
1. In large bowl, combine collards, bacon, bacon grease, cooking oil, sugar, salt, pepper, and crushed red pepper.
2. Place in Brava Chef's Pan.
3. Pour chicken stock on top. Cover with lid.
4. Slide Chef's Pan, covered, into top shelf and select "Collard Greens with Bacon". Press green button to begin cooking.
5. When cook is complete, carefully remove Chef's Pan.
6. Stir in apple cider vinegar.
7. Serve.