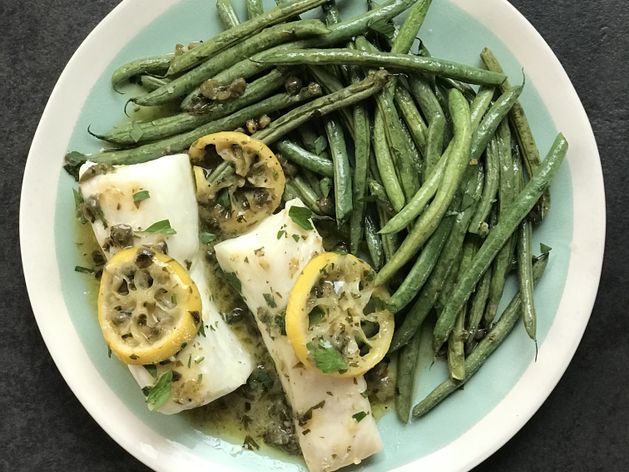 CUSTOM COOK
Halibut and Green Beans with Lemon Caper Sauce
Key: KLN-JPN-UKA
About this Custom Cook
This custom cook adds a simple but delicious lemon caper sauce to the halibut and green beans combo cook. The lemon caper sauce is an easy way to transform a weeknight meal into a restaurant quality dish. This sauce would also be great on other types of white fish as well as chicken.
Ingredients:
3 tablespoons plus 1 teaspoon butter
2 halibut fillets (about 1 inch thick)
½ lb green beans, stem ends trimmed (about 30 beans)
2 tablespoons olive oil
1 garlic clove, minced
1 tablespoon capers, drained
1 tablespoon lemon juice
1/4 cup water
1/2 lemon, sliced into thin rounds
1 tablespoon Italian parsley, chopped
Instructions:
1. Let butter stand at room temperature for 15–30 minutes to soften.
2. Spread 1 teaspoon butter on Zone 1 of Brava glass tray. Any uncovered butter may burn, so spread only enough for halibut to cover it.
3. Pat halibut dry with paper towels.
4. Season both sides with salt.
5. Place halibut on top of butter.
6. In medium bowl, toss together green beans, 1 tablespoon olive oil and a pinch of salt.
7. Evenly spread green beans in Zones 2 and 3 of glass tray.
8. Slide glass tray into bottom shelf.
9. Select "Halibut and Green Beans with Lemon Caper Sauce" on your Brava touchscreen and follow instructions.
10. While halibut is cooking, make sauce.
11. In small saucepan, heat olive oil over medium heat. Saute garlic and capers over medium heat for 2 minutes.
12. Add lemon juice, water, sliced lemons and a couple pinches of black pepper. Saute over medium heat for 3 minutes.
13. Remove from heat and whisk in butter and parsley.
14. When halibut and green beans are done cooking, carefully remove glass tray.
15. Plate halibut and green beans and top with lemon caper sauce.
16. Serve immediately.