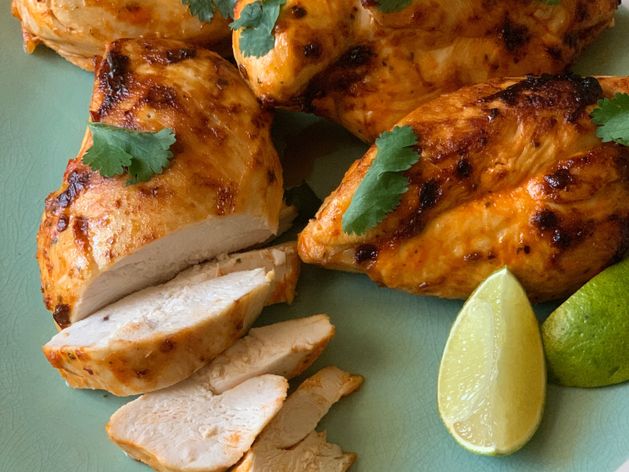 CUSTOM COOK
Chipotle Chicken Breasts
Key: JXF-ERY-XUT
About this Custom Cook
These chipotle marinated chicken breasts are great on their own or incorporated into a burrito bowl. If you are making burrito bowls, I would suggest doubling the amount of marinade you make then saving half of it to use as a sauce for the bowls. The marinade calls for 1-2 chipotle peppers: if you would like a mild sauce, use one and if you would like a bit of a kick use two chipotles.
Ingredients
3/4 cup mayonnaise
2 tablespoons lime juice, plus extra for garnish
2 tablespoons chopped cilantro, plus extra for garnish
1-2 chipotles (from can of chipotles in adobo)
1 garlic clove
4 chicken breasts
Instructions
1. In food processor or blender, combine mayonnaise, lime juice, cilantro, chipotles and garlic. Blend until smooth.
2. In gallon-sized ziploc bag, combine chipotle marinade and chicken breasts. Evenly distribute marinade over chicken. Let marinate in fridge for 30 min to 1 hour.
3. Line Brava metal tray with foil.
4. Once the chicken has marinated, remove from bag and shake off excess marinade. Place in zones 1 and 2 of metal tray.
5. Follow instructions on touchscreen. Press green button to begin cook.
6. Once the cook is completed, plate chicken. Garnish with chopped cilantro and a squeeze of lime. Serve.