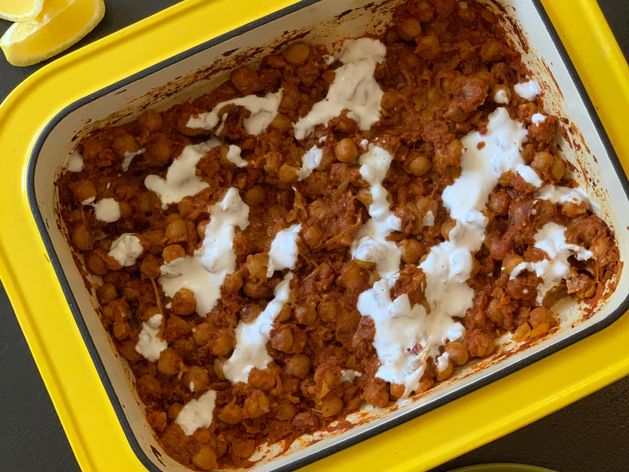 CUSTOM COOK
Spiced Chickpeas (Slow Cook)
Key: JRJ-XHU-YJN
About this Custom Cook
These chickpeas are deeply spiced and covered with a jammy tomato and onion sauce. The chickpeas are cooked low and slow with spices, onions and tomatoes. This allows the spices to slowly release their flavor and the tomatoes and onions to caramelize and become jam like. This recipe has a bit of a kick to it, so feel free to remove the red chili flakes from the recipe if you would like it to be more mild. I would highly recommend serving this with some plain yogurt and either basmati rice or some crusty bread.
Serves 3
Ingredients
2 15.5 oz cans chickpeas
1 14.5 oz can crushed tomatoes
1/2 onion, thinly sliced
1/3 cup olive oil
4 cloves garlic, minced
1 tablespoon tomato paste
1 tablespoon paprika
1 teaspoon turmeric
1 teaspoon ginger, finely chopped
1 teaspoon kosher salt
1/2 teaspoon red chili flakes (optional)
1/4 teaspoon black pepper
1/8 teaspoon allspice
1/2 lemon, squeezed
Instructions
1. In fine mesh strainer, rinse chickpeas under water. Drain well.
2. In Brava Chef's Pan, combine chickpeas, crushed tomatoes, onion, olive oil, garlic, tomato paste, paprika, turmeric, ginger, kosher salt, red chili flakes, black pepper and allspice.
3. Slide Chef's Pan, covered, into top oven shelf and press green button to begin slow cook.
4. When cook is completed, carefully remove Chef's Pan.
5. Add lemon juice and combine.
6. Serve immediately. Top with yogurt if desired.