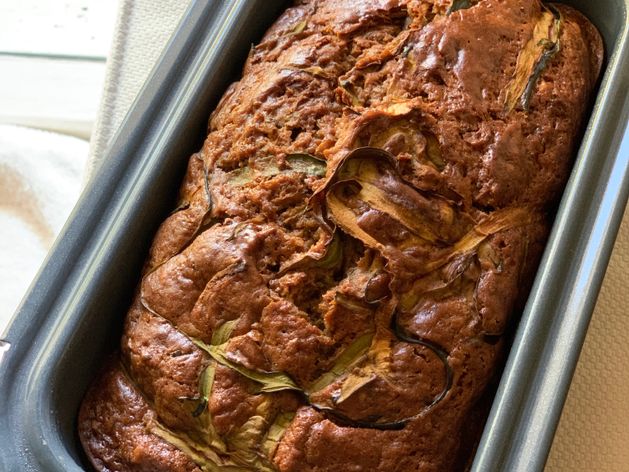 CUSTOM COOK
Zucchini Bread
Key: JLM-WKM-CLW
About this Custom Cook
This zucchini bread is packed with zucchini to keep it moist and is flavored with warm spices. This zucchini bread is a bit healthier than other recipes as it uses more zucchini as well as olive oil and Greek yogurt instead of vegetable oil. In this recipe I peel some zucchini strands first to use as a decoration on top of the bread, but this it completely optional.
Ingredients:
1-3 zucchini (2 cups of packed grated zucchini)
1/2 cup brown sugar, packed
1/2 cup granulated sugar
1/2 cup Greek yogurt
1/3 cup olive oil
2 eggs
1 teaspoon vanilla extract
2 cups all-purpose flour
1 1/2 teaspoons cinnamon
1 teaspoon kosher salt
3/4 teaspoon baking soda
1/2 teaspoon baking powder
1/4 teaspoon nutmeg
1/2 cup coarsely chopped walnuts (optional)
Instructions:
1. Grease Brava loaf pan with cooking spray.
2. (Optional): Peel a couple of long strands of zucchini (top to bottom of zucchini). These should total about 1/4 cup. Reserve.
3. Grate 2 cups (packed) of zucchini on the large hole end of a box grater.
4. Select "Zucchini Bread" custom cook and begin preheating Brava.
5. In large bowl, combine grated zucchini, brown sugar, granulated sugar, Greek yogurt, olive oil, eggs and vanilla. Combine.
6. Add flour, cinnamon, salt, baking soda, baking powder and nutmeg to the wet ingredient mixture. Combine until there are no remaining clumps of flour in batter.
7. Stir in walnuts.
8. Pour batter into greased loaf pan. Top with reserved strands of zucchini (in a single layer on top of batter).
9. Slide loaf pan into top oven shelf. Press green button to begin baking.
10. When bake is complete, carefully remove loaf pan. Let cool.
11. Serve.