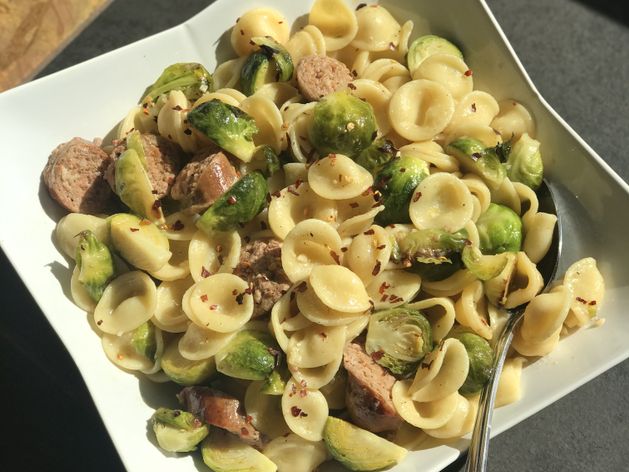 CUSTOM COOK
Pasta with Sausage and Brussels Sprouts
Key: JKM-URM-FWA
About this Custom Cook
This custom cook is an easy way to turn the precooked sausage with Brussels sprouts combo cook into a delicious pasta meal. This dish works well with most precooked sausages. Personally, I would like making this with some chicken apple sausage or kielbasa, but feel free to use anything you have on hand.
Ingredients:
3 tablespoons olive oil
2 precooked sausage links
4 cups chopped Brussels sprouts (1-inch pieces or small ones halved, large ones quartered)
1/2 lb dried pasta
2 tablespoons butter
3 garlic cloves, minced
1 teaspoon apple cider vinegar
1/2 teaspoon red pepper flakes (optional)
Instructions:
1. Bring a large pot of water to a boil.
2. Place sausages lengthwise in Zone 1 of Brava metal tray.
3. In medium bowl, toss together Brussels sprouts, 1 tablespoon cooking oil and a pinch of salt.
4. Evenly spread Brussels sprouts in Zones 2 and 3 of metal tray.
5. Slide metal tray into top oven shelf.
6. Select "Pasta with Sausage and Brussels Sprouts" on your oven touchscreen and follow instructions. Press green button to begin cooking.
7. When water boils, add pasta and a couple pinches of salt.
8. In the meantime, in large saucepan over medium heat, heat remaining 2 tablespoons of olive oil and butter over medium heat.
9. Add garlic and saute for 2 minutes. Remove from heat.
11. When pasta is ready, reserve 1 cup of pasta water then drain pasta and set aside.
12. When Brava has finished cooking, carefully remove metal tray.
13. Place sausages on cutting board and cut into 1/2" slices.
14. Bring large saucepan to medium heat again, then add 1 cup of pasta water. Bring to a boil.
15. Once boiling, add drained pasta, sausage, Brussels sprouts, apple cider vinegar, red pepper flakes and 1/4 teaspoon of salt. Saute over medium heat for 2 minutes.
16. Plate pasta and serve immediately.