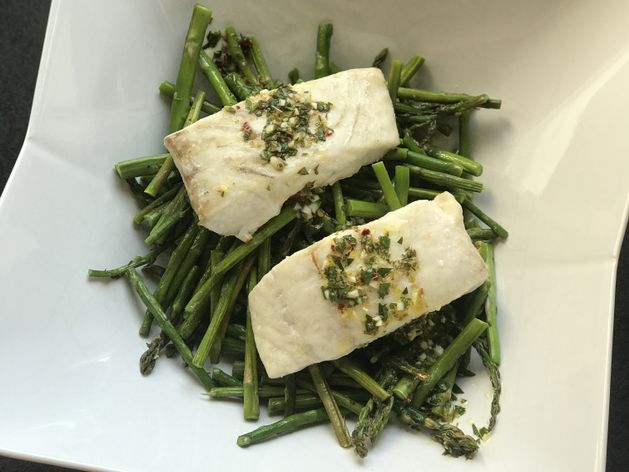 CUSTOM COOK
Halibut with Sicilian Lemon Sauce and Asparagus
Key: JET-TEE-YUH
About this Custom Cook
This custom cook is an easy way to add a bright, fresh flavor to the halibut and asparagus combo cook. The sauce in this dish is called salmoriglio sauce, which is a pungent lemony sauce from Sicily, Italy. It is traditionally used as a condiment to drizzle over fish and grilled meats.
Ingredients:
1 teaspoon butter
2 halibut fillets (about 1 inch thick)
3 cups chopped asparagus (2-inch pieces, bottom 2 inches trimmed)
1 teaspoon vegetable oil
1/4 cup olive oil
3 tablespoons lemon juice
1 garlic clove, finely chopped
1 tablespoon parsley, chopped
1/2 teaspoon lemon zest
1/2 teaspoon dried oregano
1/4 teaspoon red pepper flakes (optional)
Instructions:
1. Let butter stand at room temperature for 10 minutes to soften.
2. Spread some butter on Zone 1 of Brava glass tray. Any uncovered butter may burn, so spread only enough for halibut to cover it.
3. Pat halibut dry with paper towels.
4. Season both sides with salt.
5. Place halibut on top of butter.
6. In medium bowl, toss together asparagus, 1 teaspoon vegetable oil and a pinch of salt.
7. Evenly spread asparagus in Zones 2 and 3 of glass tray.
8. Slide glass tray into bottom shelf.
9. Select "Halibut with Sicilian Lemon Sauce and Asparagus" on your Brava touchscreen and follow instructions.
10. While halibut and asparagus are cooking, make sauce.
11. In small bowl, whisk together olive oil, lemon juice, garlic, parsley, lemon zest, dried oregano, red pepper flakes and a few pinches of salt. Set aside.
12. When cook is completed, carefully remove glass tray.
13. Plate halibut and asparagus. Drizzle lemon sauce over top of halibut.
14. Serve with extra sauce on the side.