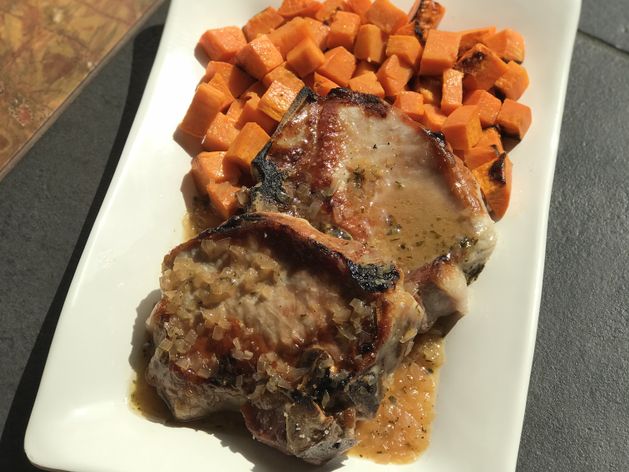 CUSTOM COOK
Pork Chops and Sweet Potatoes with Apple Cider Sauce
Key: HWK-RMF-KJL
About this Custom Cook
This custom cook gives the pork and sweet potato combo cook a fun fall-inspired twist. The apple cider sauce pairs well with the pork and gives the dish a slightly sweet and herbal flavor. You could easily make this sauce and pair it with any of the other Pork Chop combo cooks as well (with Brussels sprouts, cauliflower, etc.).
Ingredients:
2 bone-in pork chops
2½ cups diced sweet potatoes (½-inch pieces)
1 tablespoon vegetable oil
3 tablespoons butter
1 shallot, finely chopped
1 teaspoon fresh thyme, finely chopped or 1/4 teaspoon dried thyme
1/2 cup apple cider
1 teaspoon honey
1 teaspoon apple cider vinegar
Instructions:
1. Pat pork chops dry with paper towels.
2. Season both sides with salt.
3. Place pork chops in Zone 1 of Brava metal tray.
4. In medium bowl, toss together sweet potatoes, 1 tablespoon vegetable oil and a pinch of salt.
5. Evenly spread potatoes in Zones 2 and 3 of metal tray.
6. Slide metal tray into top shelf.
7. Select "Pork Chops and Sweet Potatoes with Apple Cider Sauce" on your Brava touchscreen and follow instructions.
8. Press green button to begin cooking.
9. While pork and sweet potatoes are cooking, make sauce.
10. In small saucepan, melt 1 tablespoon butter over medium-high heat. Add shallot and thyme and saute for 3 minutes, until translucent.
11. Add apple cider, honey, apple cider vinegar, 1/4 teaspoon salt and a couple pinches of pepper.
12. Bring sauce to boil then reduce heat to low and let simmer for 5 minutes. Remove sauce from heat.
13. Immediately whisk in remaining 2 tablespoons of butter.
14. When your food is done, slice pork chops within 1 minute to maintain preferred doneness.
15. Plate pork and sweet potatoes. Spoon apple cider sauce over top of pork.