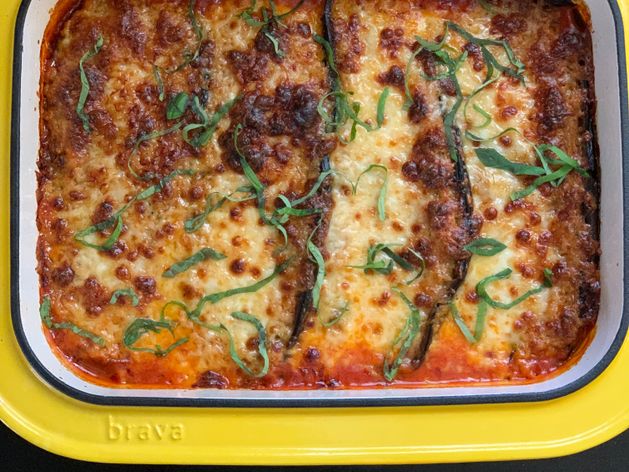 CUSTOM COOK
Stuffed Eggplant Parmesan
Key: HPA-YML-LHR
About this Custom Cook
Love eggplant parmesan? Give this recipe a try! I'm a huge fan of stuffed eggplants and eggplant parmesan so I decided to combine them in this dish. You can use your favorite jarred marinara sauce for this recipe (I would highly recommend Rao's marinara sauce if you're looking to find a great marinara sauce). If you don't have fresh basil on hand, substitute 1 teaspoon of dried basil for the fresh basil in the filling.
Ingredients:
2 medium eggplants
2 tablespoons olive oil, divided
2 cups plus 2 tablespoons marinara sauce
1 cup grated Parmesan cheese, divided
1/2 cup Panko breadcrumbs
1 egg
3 tablespoons coarsely chopped fresh basil
1 tablespoon tomato paste
1 teaspoon kosher salt
1/2 teaspoon garlic powder
1/4 teaspoon black pepper
1 1/2 cups grated mozzarella cheese
Instructions:
1. Remove green tops from eggplants. Slice each eggplant in half lengthwise.
2. In large bowl, toss eggplant with 1 tablespoon olive oil and a pinch of salt. Make sure eggplants are evenly coated with oil.
3. Place eggplant halves, flat side down, on Brava metal tray. (You may have to have 3 fit horizontally and one fit vertically).
4. Slide metal tray into bottom shelf. Press green button to begin cook.
5. When cook is completed, carefully remove metal tray. Let cool 5 minutes.
6. With spoon, very gently remove inside flesh from eggplant halves while keeping the outer skin intact (the eggplant tares easily). I would recommend leaving a thin layer of flesh inside of each eggplant to ensure it doesn't tare. Place inside flesh in medium bowl. Leave outside skins on metal tray.
7. With potato masher, mash eggplant flesh.
8. To bowl, add 2 tablespoons marinara, 1/2 cup grated Parmesan cheese, Panko, egg, 2 tablespoons basil, tomato paste, 1 tablespoon olive oil, salt, garlic powder and black pepper. Combine.
9. In separate bowl, combine mozzarella cheese and 1/2 cup parmesan cheese.
10. Press green button to begin preheating Brava.
11. Fill each eggplant with eggplant mixture on metal tray.
12. Spread 2 cups of marinara on bottom of Chef's Pan.
13. Very carefully place stuffed eggplants on top of marinara sauce in Chef's Pan. (I find this is easiest to do using a silicone spatula on one side of the eggplant and lifting with my hand on the other side).
14. Top with even layer of cheese mixture.
15. When the Brava is preheated, place lid on Chef's Pan and slide Chef's Pan, covered, into top oven shelf. Press green button to continue cook.
16. When Brava notifies you, carefully remove Chef's Pan. Remove lid from Chef's Pan.
17. Slide Chef's Pan, uncovered, into top oven shelf. Press green button to continue cook.
18. When cook is completed, carefully remove Chef's Pan from Brava. Garnish top with 1 tablespoon coarsely chopped basil.
19. Serve immediately.