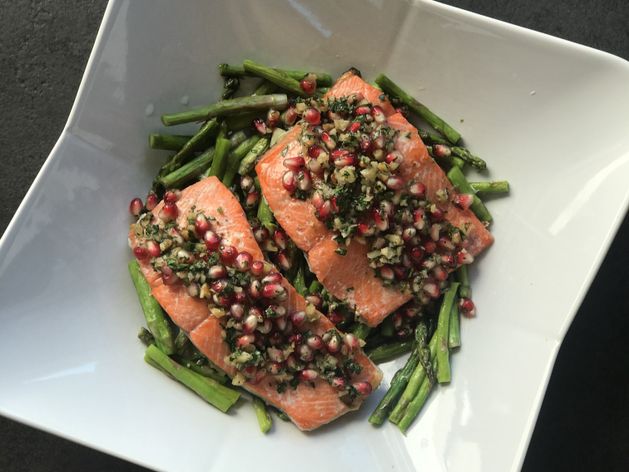 CUSTOM COOK
Pomegranate Salmon with Asparagus
Key: HNE-XKH-MXE
About this Custom Cook
This custom cook is an easy, healthy way to add amplify the flavor of the salmon and asparagus combo cook. The salmon is garnished with a sweet and sour topping made of pomegranate, walnuts, parsley and lemon. Feel free to use either skin-on salmon or skinless salmon for this. If you are using skinless salmon, just make sure to run the skinless salmon and asparagus combo cook program on Brava instead.
Ingredients:
1 teaspoon butter
2 skin-on salmon fillets (1–1½ -inches thick)
3 cups chopped asparagus (2-inch pieces, bottom 2 inches trimmed)
1/4 cup pomegranate seeds
2 tablespoons walnuts, chopped finely
2 tablespoons parsley, chopped finely
2 teaspoons lemon juice
1 teaspoon olive oil
1 teaspoon honey
Instructions:
1. Let butter stand at room temperature for 10-15 minutes to soften.
2. Spread some butter on Zone 1 of Brava glass tray. Any uncovered butter may burn, so spread only enough for salmon to cover it.
3. Pat salmon dry with paper towels.
4. Season both sides with salt.
5. Place salmon, skin side down, on top of butter. Make sure thickest salmon fillet is on left side of Zone 1.
6. In medium bowl, toss together asparagus, 1 tablespoon cooking oil and a pinch of salt.
7. Evenly spread asparagus in Zones 2 and 3 of glass tray.
8. Slide glass tray into bottom shelf.
9. Select "Salmon (Skin-On) and Asparagus" on your Brava touchscreen and follow instructions.
10. After plugging in TempSensor, insert it horizontally through center of salmon.
11. Press green button to begin cook.
12. While fish is cooking, make pomegranate topping.
13. In small bowl, combine pomegranate, walnuts, parsley, lemon juice, olive oil, honey and a pinch of salt.
14. When your food is done, carefully remove glass tray.
15. Garnish salmon with pomegranate. Serve immediately.