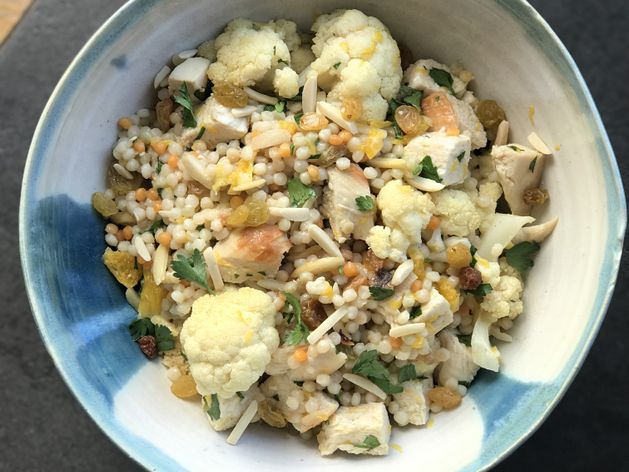 CUSTOM COOK
Couscous with Chicken and Cauliflower
Key: FXP-RFU-YLL
About this Custom Cook
This Moroccan-inspired grain salad is full of a different flavors and textures. I used the chicken and cauliflower combo cook as the base, then added couscous, some almonds for crunch and oranges and raisins for some sweetness. The cinnamon gives the dish a background note of spice that's common in Moroccan cuisine. If you would like it, feel free to use dried apricots or dates instead of raisins. You could also substitute pistachios in place of the almonds if you would like. This dish is great served warm or at room temperature.
Ingredients:
1 cup Israeli couscous (pearl couscous)
2 boneless, skinless chicken breasts
4 cups cauliflower florets (2-inch pieces)
3 tablespoons olive oil
1 tablespoon white wine vinegar
1 tablespoon orange juice
1 tablespoon honey
1/4 teaspoon cinnamon
1/2 orange, sliced thinly
3 tablespoons Italian parsley, roughly chopped
3 tablespoons slivered almonds
3 tablespoons raisins
Instructions:
1. Cook couscous according to package instructions.
2. While couscous is cooking, pat chicken dry with paper towels.
3. Season both sides with salt.
4. Place chicken in Zone 1 of Brava metal tray with thickest portion on left side.
5. In medium bowl, toss together cauliflower, 1 tablespoon cooking oil and a pinch of salt.
6. Evenly spread cauliflower in Zones 2 and 3 of metal tray.
Slide metal tray into top shelf.
7. Select "Couscous with Chicken and Cauliflower" on your Brava touchscreen and follow instructions.
8. After plugging in TempSensor, insert it horizontally through center of chicken.
9. Press green button to begin cooking.
10. While chicken and cauliflower cook, make dressing.
11. In small bowl, whisk together olive oil, white wine vinegar, orange juice, honey, cinnamon and a couple pinches of salt.
12. When couscous has finished cooking, remove from heat and set aside.
13. When chicken and cauliflower are done cooking, carefully remove metal tray.
14. On cutting board, slice chicken into 1" pieces.
15. In serving bowl, toss together couscous, cauliflower, chicken pieces, orange slices, parsley, almonds, raisins and dressing.
16. Serve.