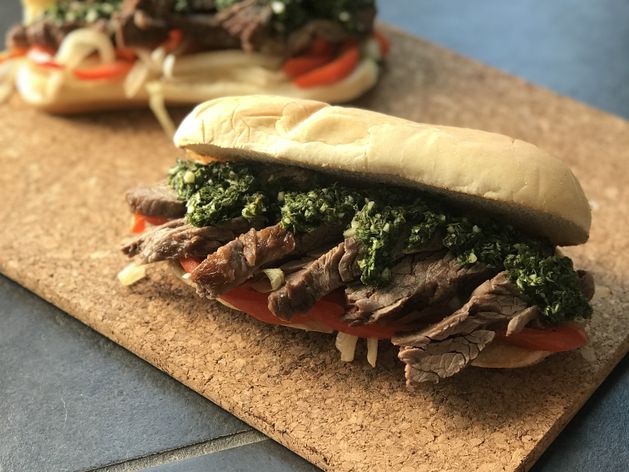 CUSTOM COOK
Chimichurri Steak Sandwiches
Key: FUY-MWA-XNE
About this Custom Cook
This custom cook uses the skirt steak with peppers and onions combo cook to make delicious, Argentinian-inspired sandwiches. These are topped with Chef George Duran's recipe for chimichurri sauce. Chimichurri an herb sauce that originated in Argentina that is typically used as a condiment for grilled meat. If you don't have a food processor it's fine to chop the herbs and garlic by hand. This recipe makes 2 large sandwiches or 3 normal sized sandwiches.
Makes 2-3 sandwiches
Ingredients:
1/2 bunch flat leaf Italian parsley or cilantro (or a blend of both)
1 1/2 teaspoons chopped fresh thyme
2 tablespoons fresh oregano leaves
1-2 garlic cloves
1/4 cup extra-virgin olive oil (or more, if desired)
1 1/2 teaspoons distilled white vinegar
1 pinch ground cumin
1 pinch crushed red pepper flakes (optional)
1 skirt steak (12–14 oz)
2 ½ cups cups sliced onions and bell peppers (¼-inch-thick slices)
2-3 sandwich rolls or 4-6 slices of sandwich bread
Instructions:
Make chimichurri:
1. Remove parsley and/or cilantro leaves from stems.
2. In food processor, combine parsley and/or cilantro, thyme, oregano and garlic; pulse until finely chopped. Transfer herbs and garlic to medium bowl.
3. In same bowl, add olive oil, vinegar, cumin, a pinch of salt and pepper and red pepper flakes, if using; stir well. If you prefer a thinner sauce add a few more teaspoons of olive oil.
Prepare steak:
4. Pat steak dry with paper towels.
5. Season both sides with salt.
6. Place steak lengthwise in Zone 1 of Brava metal tray.
7. In medium bowl, toss together onions, bell peppers, 1 tablespoon cooking oil and a pinch of salt.
8. Evenly spread onions and peppers in Zones 2 and 3 of metal tray.
9. Slide metal tray into top shelf.
10. Select "Chimichurri Steak Sandwiches" on your Brava touchscreen and follow instructions.
11. When cook is completed, carefully remove metal tray.
12. Place steak on cutting board and slice into strips. Sprinkle with a couple pinches of pepper.
Assemble sandwiches:
13. Assemble sandwiches using bread, steak slices, onions and peppers. Top with chimichurri sauce.
14. Serve.