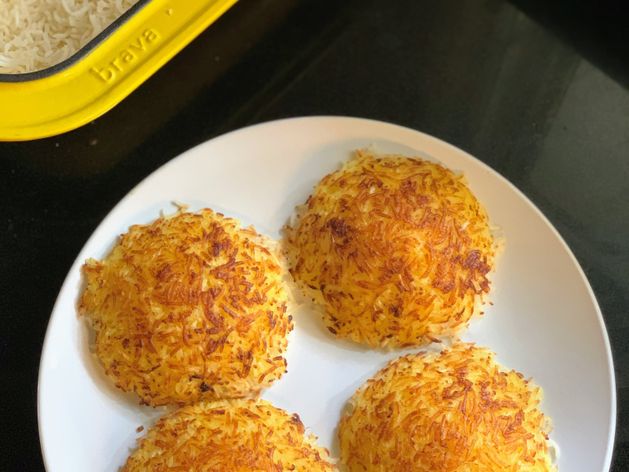 CUSTOM COOK
Persian Crispy Rice
Key: FJP-CUF-CTH
About this Custom Cook
This custom cook is one of the tastiest ways to prepare rice. I take leftover basmati rice (great way to use leftover Brava rice pilaf!) and mix it with some yogurt, saffron and butter then sear it off in the egg tray to make it perfectly crispy. This is my take on tahdig, which is a traditional Persian dish. Traditionally it is made while cooking a whole pot of rice and is quite time-consuming. This version is much simpler, and a lot faster! If you have ghee, that would work even better than using melted butter.
Ingredients:
2 cups cooked basmati rice, divided
2 tablespoons whole-fat greek yogurt
1 tablespoon melted butter or ghee
1 pinch saffron
Instructions:
1. Boil water.
2. While water is boiling, crush saffron in small bowl. Pour 1 teaspoon of boiling water over saffron. Let stand for 1 minute.
3. In bowl, combine 1 cup basmati rice, yogurt, butter and saffron liquid with a couple pinches of kosher salt.
4. Spread rice mixture evenly in each egg tray well. Push mixture down and around sides of egg well.
5. Divide the remaining rice evenly among egg tray wells. Push down and make sure the trays are evenly filled (not under or over-filled).
6. Slide egg tray into bottom oven shelf. Press green button to begin cook.
7. When cook is completed, removed egg tray from Brava and let rest 1 minute.
8. Place plate over top of egg tray and carefully flip onto plate.
9. Serve.