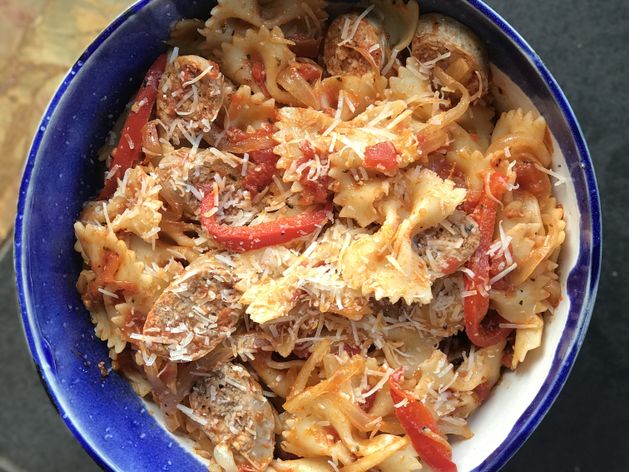 CUSTOM COOK
Sausage and Peppers Pasta
Key: FHW-LRP-FET
About this Custom Cook
This custom cook is an easy way to turn the fresh sausage with onions and peppers combo cook into a delicious pasta meal. I grew up having Italian sausage and peppers in pasta, so I wanted to share an easy way to Bravatize that dish. Feel free to use your favorite pasta sauce instead of making this one if you would like!
Ingredients:
2 tablespoons olive oil
2 garlic cloves, minced
1 tablespoon tomato paste
1 14.5oz can crushed or diced tomatoes
1/2 teaspoon dried basil
1/4 teaspoon dried oregano
2 fresh Italian sausage links (6 oz each)
2½ cups sliced onions and bell peppers (¼-inch-thick slices)
1/2 lb dried pasta
2 tbsp grated parmesan, to garnish (optional)
Instructions:
1. Bring a large pot of water to a boil.
2. In the meantime, in small saucepan over medium heat, saute garlic in olive oil for 1 minute.
3. Add tomato paste and saute for 3 minutes, stirring often.
4. Add tomatoes, basil, oregano and a couple pinches of salt and black pepper. Bring to a simmer.
5. Meanwhile, place fresh sausages lengthwise in Zone 1 of Brava metal tray.
6. In medium bowl, toss together onions, bell peppers, 1 tablespoon cooking oil and a pinch of salt.
7. Evenly spread onions and peppers in Zones 2 and 3 of metal tray.
8. Slide metal tray into top shelf.
9. Select "Sausage and Peppers Pasta " on your Brava touchscreen and follow instructions.
10. When water is boiling, add pasta and a couple pinches of salt.
11. When pasta is ready, drain and set aside.
12. When Brava has finished cooking, carefully remove metal tray.
13. Place sausages on cutting board and cut into 1/2" slices.
14. In serving bowl, combine pasta, tomato sauce, sausage pieces and onions and peppers.
15. Garnish with parmesan cheese and serve.