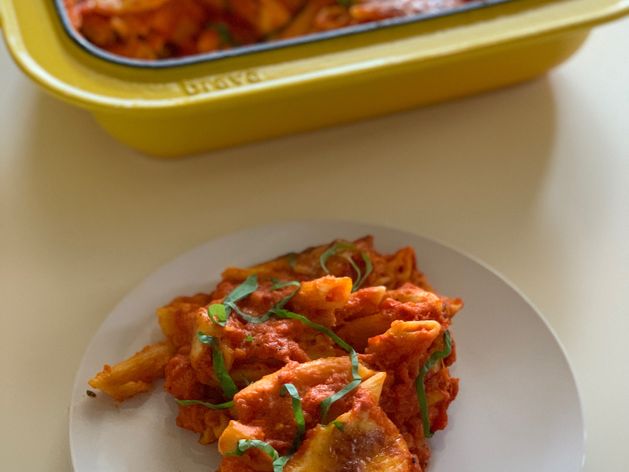 CUSTOM COOK
No Boil Pasta Bake
Key: FCT-FEF-PRP
About this Custom Cook
This baked pasta recipe does not require any boiling. Simply soak the pasta in hot salted water for 30 minutes, then add it into the Chef's Pan and bake. You can use any pasta in this recipe, but I would recommend using a tube-shaped pasta in order for the pasta to easily absorb the sauce and so that it can be easily scooped out when serving.
Ingredients:
3 cloves garlic, finely chopped
3 tablespoons butter, cut into chunks
2 tablespoons tomato paste
1 tablespoon olive oil
1 pound dried tubular pasta (for example, penne)
1 cup ricotta
1 egg
1/2 cup grated parmesan
3 1/2 cups marinara (1 28 oz. jar), divided
1 1/2 cups mozzarella, sliced or shredded
1 tablespoon fresh basil, sliced (optional)
Instructions:
1. Place pasta in large bowl. Pour hot water over pasta (the water should be about 2-3" above pasta) and sprinkle with salt. Stir. Let sit for 30 minutes.
2. Mix garlic, tomato paste and olive oil in Chef's Pan. Spread evenly across bottom of pan. Top with butter pieces.
3. Slide Chef's Pan, uncovered, into top oven shelf. Press green button to begin cook.
4. In bowl, mix ricotta, parmesan, egg as well as a couple pinches of kosher salt and black pepper.
5. When the first step of the cook is completed, remove Chef's Pan from Brava and let cool.
6. When pasta has finished soaking, drain.
7. Press green button to begin preheating Brava.
8. Add drained pasta to ricotta mixture. Mix.
9. Add pasta and half of marinara to Chef's Pan. Combine and spread evenly across pan.
10. Top with remaining marinara. Spread evenly.
11. Top pasta with mozzarella.
12. Once Brava is done preheating, cover Chef's Pan and slide into top oven shelf. Press green button to continue cook.
13. When prompted, remove Chef's Pan from Brava. Remove lid and slide pan back into top shelf. Press green button to continue cook.
14. Once cook is completed, let cool for 10 minutes.
15. Top with basil and serve.