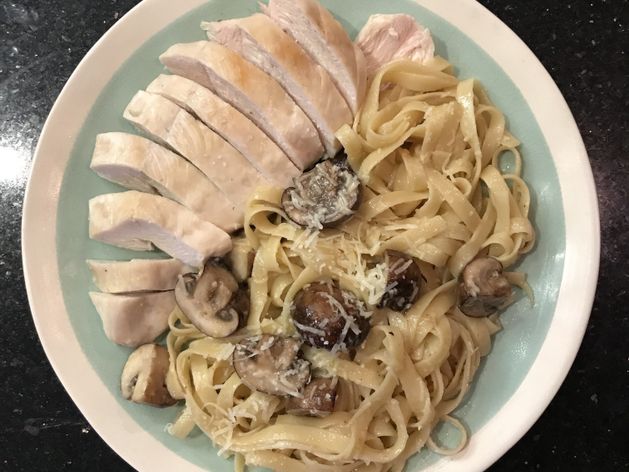 CUSTOM COOK
Mushroom Pasta with Chicken
Key: EYH-TNU-URM
About this Custom Cook
This custom cook is an easy way to make a delicious pasta dish from the chicken and mushroom combo cook. The pasta boils and the sauce is made while the chicken and mushrooms cook. I served this with the chicken on the side, but this would also be delicious with the chicken mixed in!
Ingredients:
2 boneless, skinless chicken breasts
3 cups chopped cremini mushrooms (1-inch pieces, typically halves or quarters)
1 tablespoon cooking oil
1/2lb dried pasta
3 tablespoons butter
2 cloves garlic, minced
1/2 cup chicken stock
1/3 cup grated parmesan cheese plus extra to garnish
2 tablespoons heavy cream
Instructions:
1. Set a large pot of water on stovetop and set to boil.
2. Pat chicken dry with paper towels.
3. Season both sides with salt.
4. Place chicken in Zone 1 of Brava metal tray with thickest portion on left side.
5. In medium bowl, toss together mushrooms, 1 tablespoon cooking oil and a pinch of salt.
6. Evenly spread mushrooms in Zones 2 and 3 of metal tray.
7. Slide metal tray into top shelf.
8. Select "Chicken Breasts and Mushrooms" on your Brava touchscreen and follow instructions.
9. After plugging in TempSensor, insert it horizontally through center of chicken.
10. Press green button to begin cooking.
11. While chicken and mushrooms cook, make pasta and sauce.
12. When water is boiling, add pasta and a couple pinches of salt.
13. While pasta is boiling, make sauce.
14. In a large saute pan over medium-high heat, saute garlic in butter for 1 minute.
15. Add chicken stock, parmesan heavy cream and a pinch of salt and a couple pinches of pepper. Simmer over medium heat for 5 minutes, whisking occasionally. Remove from heat.
16. When pasta is ready, add pasta to sauce and saute over low heat for 2 minutes. (Or combine pasta and sauce in a separate bowl). Note: If you would like a looser sauce, add some pasta water to the pasta.
17. When Brava has finished cooking, carefully remove metal tray.
18. Add mushrooms and mushroom juices from pan to pasta. Combine.
19. Plate pasta and garnish with additional parmesan (if desired).
20. Serve with chicken.