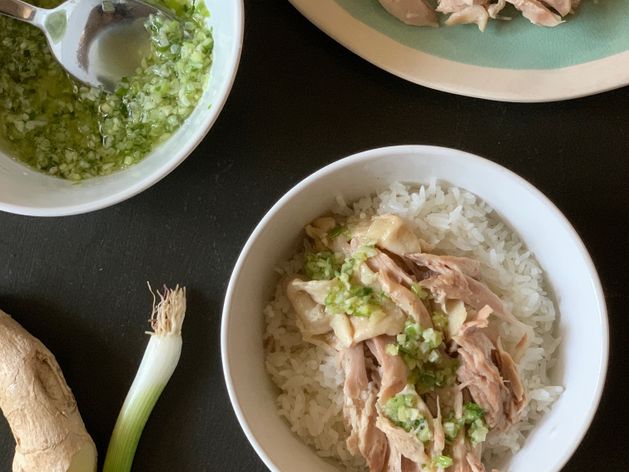 CUSTOM COOK
Ginger Scallion Chicken
Key: EUJ-AKX-FLM
About this Custom Cook
This recipe is based on a traditional Cantonese poached chicken dish. It's really simple to make ( it only uses 6 ingredients- 2 being oil and salt) and it's super flavorful and fresh. The chicken is first poached then shredded and served with a ginger scallion sauce.
I would recommend saving the poaching liquid here as well, its flavorful chicken stock that you could use for soup or however you wish. Please make sure to use bone-in skin on chicken for this dish, it's what gives it the best flavor. Traditionally, this chicken dish would be served cold, but I find it tastes good served hot or cold. This is best served with Jasmine rice.
Ingredients
2 1/2 lbs bone-in skin on chicken (any cut works, I used a combination of thighs and drumsticks)
1" piece ginger, peeled plus 1 tablespoon and 1 teaspoon minced ginger
3 whole cloves plus 4 cloves minced garlic
1 1/2 teaspoons plus 1/2 teaspoon kosher salt
1/4 cup green onions, minced
1/3 cup vegetable oil
Instructions
1. In Chef's Pan, combine chicken with 1 1/2 teaspoons of kosher salt.
2. Place 1" piece of ginger and 3 garlic cloves in Chef's Pan. Pour 1 1/2 cups water over chicken.
3. Slide the Chef's Pan, covered, into top oven shelf. Press green button to begin cook.
4. Make dipping sauce. While the chicken is cooking, combine 1 tablespoon plus 1 teaspoon minced ginger, 4 cloves of minced garlic, 1/2 teaspoon kosher salt and 1/4 cup minced green onions in small bowl.
5. To egg tray, pour sauce into the two back egg tray wells.
6. When chicken is done cooking, carefully remove Chef's Pan.
7. Slide egg tray into top shelf. Press green button to resume cooking.
8. Remove chicken from broth and place on cutting board or large plate. (You can save the broth for future use). Let cool for 5 minutes.
9. When cook is completed, carefully remove egg tray. Carefully scoop dipping sauce into bowl. Let cool.
10. Once chicken has slightly cooled, shred chicken. This can be done using two forks or a pair of tongs and a fork.
11. Place shredded chicken on plate. Serve with dipping sauce.