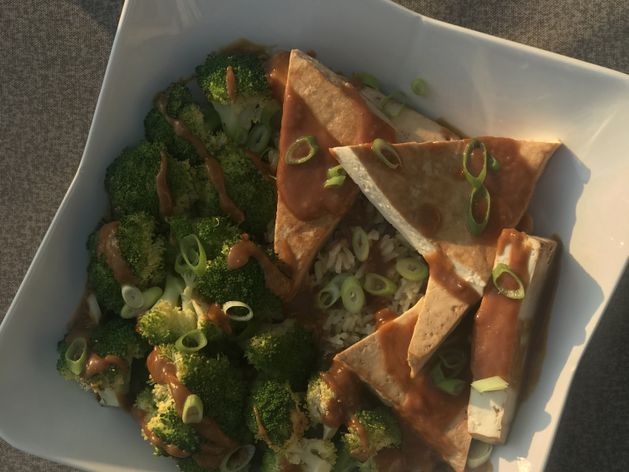 CUSTOM COOK
Tofu and Broccoli with Peanut Sauce
Key: ETN-MRX-XUN
About this Custom Cook
This custom cook jazzes up the Tofu and Broccoli custom cook by serving it with a creamy, slightly spicy peanut sauce. Adding the Sriracha is optional here, if you would prefer the sauce to have no heat simply omit it. I would recommend serving this with white or brown rice.
Ingredients:
1 package firm or extra-firm tofu (14–16 oz)
3 tablespoons plus 1 teaspoon soy sauce
1 tablespoon sesame oil
4 cups broccoli florets (2-inch pieces)
1 teaspoon vegetable oil
3 tablespoons peanut butter
1 tablespoon rice wine vinegar
1 garlic clove, grated
1/2" piece ginger, grated
2 teaspoons honey
1 teaspoon Sriracha (optional)
1 scallion, sliced, to garnish (optional)
Instructions:
1. Pat tofu dry with paper towels.
2. Cut tofu in half crosswise.
3. In small bowl, combine 2 tablespoons of soy sauce with sesame oil. Soak tofu in soy sauce mixture for 4 minutes, flipping after 2 minutes.
4. In medium bowl, toss together broccoli, vegetable oil and a pinch of salt.
5. Evenly spread broccoli in Zones 2 and 3 of Brava metal tray.
6. Remove tofu from bowl; pat dry with paper towels.
7. Place tofu in Zone 1 of metal tray.
8. Slide metal tray into top oven shelf.
9. Select "Tofu and Broccoli with Peanut Sauce" on your oven touchscreen and press green button to begin cooking.
10. While tofu is cooking, make sauce.
11. In small bowl, whisk together peanut butter, 2 tablespoons of water, 1 tablespoon plus 1 teaspoon soy sauce, rice wine vinegar, garlic, ginger, honey and Sriracha.
12. When cook is completed, carefully metal tray.
13. Plate tofu and broccoli. Drizzle some of peanut sauce on top and reserve the rest to serve on the side. Garnish with sliced scallions (if using).