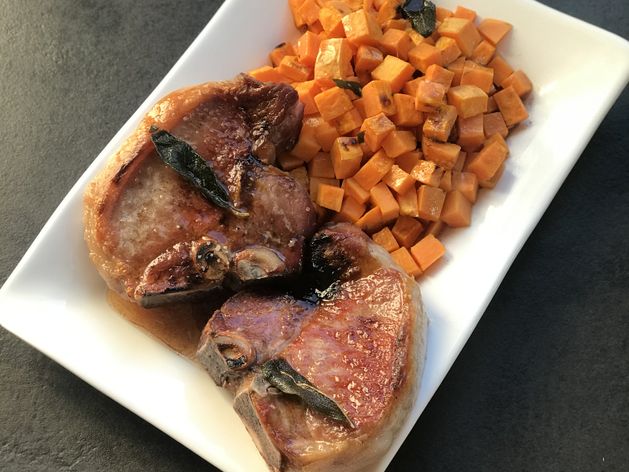 CUSTOM COOK
Pork Chops and Sweet Potatoes with Sage Brown Butter Sauce
Key: ERH-RPT-CNM
About this Custom Cook
This custom cook is full of fall flavors. The sage brown butter sauce adds a delicious, nutty note to the pork chops and sweet potatoes combo cook. This dish comes together very easily, as the sauce is quickly made while the pork and sweet potatoes cook.
Ingredients:
2 bone-in pork chops
2 1/2 cups diced sweet potatoes (½-inch pieces)
1 tablespoon vegetable oil
3 tablespoons butter
3 fresh sage leaves
Instructions:
1. Pat pork chops dry with paper towels.
2. Season both sides with salt.
3. Place pork chops in Zone 1 of Brava metal tray.
4. In medium bowl, toss together sweet potatoes, 1 tablespoon cooking oil and a pinch of salt.
5. Evenly spread sweet potatoes in Zones 2 and 3 of metal tray.
6. Slide metal tray into top shelf.
7. Select "Pork Chops and Sweet Potatoes with Sage Brown Butter Sauce" on your Brava touchscreen and follow instructions.
8. After plugging in TempSensor, insert it horizontally through center of pork.
9. Press green button to begin cook.
10. While pork is cooking, make sage brown butter.
11. In small saucepan over medium heat, melt butter.
12. Once butter has melted, add sage leaves. Increase heat to medium-high and heat butter until it turns light brown (about 2 minutes). Immediately remove from heat and stir in a pinch of salt.
13. Once your cook is completed, carefully remove metal tray.
14. Plate pork and sweet potatoes, top with sage brown butter and serve.