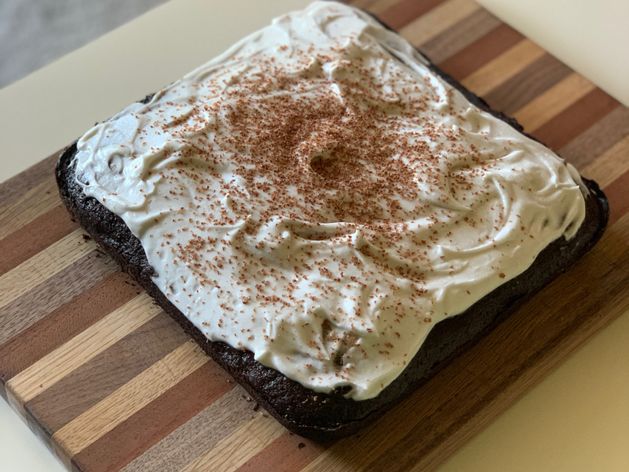 CUSTOM COOK
Chocolate Wacky Cake
Key: EPY-LEM-KTF
About this Custom Cook
No eggs? No butter? No milk? No problem! This chocolate wacky cake is a super simple and delicious cake that comes together very quickly. Wacky cake was originally created during the depression era when eggs and milk were hard to come by. It got the name "wacky" because all of the ingredients are mixed directly in the baking pan- no bowl needed! Feel free to top this with whatever frosting you would like.
Ingredients:
1 1/2 cups all-purpose flour (any type of flour will work as well)
1 cup sugar
1/3 cup unsweetened Dutch-processed cocoa powder
1 teaspoon baking soda
1/2 teaspoon kosher salt
6 tablespoons vegetable oil
1 tablespoon apple cider vinegar
1 teaspoon vanilla extract
1 cup coffee or water
Instructions:
1. Grease Brava square pan.
2. Select "Chocolate Wacky Cake" on screen and begin preheating oven.
3. Sift flour, sugar, cocoa powder, baking soda and salt directly into square pan. Mix.
4. With back of spoon, make three wells in flour mix, one large and two small.
5. Pour vinegar and vanilla into each small well then pour oil into large well.
6. Pour coffee over entire mix.
7. With fork, mix all ingredients. Make sure there are no pockets of dry ingredients and minimize clumps in batter.
8. When Brava has finished preheating, slide square pan into top oven shelf. Press green button to begin baking.
9. When baking is completed, cool cake.
10. Cut into individual pieces and serve.