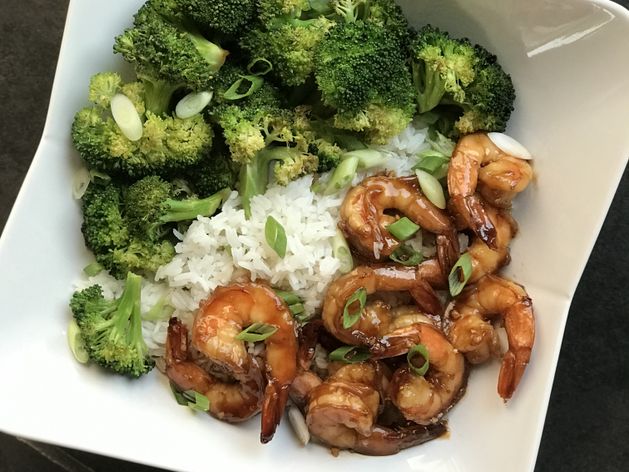 CUSTOM COOK
Honey Garlic Shrimp and Broccoli
Key: ELC-FNK-CFF
About this Custom Cook
This custom cook is a great way to amplify the flavor of the shrimp and broccoli combo cook. The shrimp is glazed with a sauce composed of garlic, honey, soy sauce and ginger which gives it a delicious sweet and savory flavor. This would be great on its own, or served over rice or noodles.
Ingredients:
4 cups broccoli florets (2-inch pieces)
3 tablespoons plus 2 teaspoons soy sauce
2 tablespoons vegetable oil
3 tablespoons honey
2 garlic cloves, minced
1/2 teaspoon ginger, minced
½ lb peeled and deveined shrimp (12–14 medium/large shrimp)
1 teaspoon cornstarch
1 scallion, sliced (optional)
Instructions:
1. In medium bowl, toss together broccoli, 1 tablespoon vegetable oil and 2 teaspoons soy sauce.
2. Evenly spread broccoli in Zones 2 and 3 of metal tray.
3. In small bowl, whisk together 3 tablespoons soy sauce, 1 tablespoon vegetable oil, honey, garlic and ginger.
4. Pat shrimp dry with paper towels.
5. Combine shrimp with 3 tablespoons of soy mixture, reserving the rest for later use.
6. Cover shrimp and let marinate in refrigerator for 5 minutes.
7. When ready, remove shrimp and shake off excess marinade.
8. Evenly spread shrimp in Zone 1 of Brava metal tray.
9. Slide metal tray into top shelf.
10. Select "Honey Garlic Shrimp and Broccoli" on your Brava touchscreen and follow instructions.
11. While shrimp and broccoli are cooking, make sauce.
12. In small bowl, combine cornstarch with 1 tablespoon of water.
12. Pour remaining soy mixture into small saucepan and bring to a boil.
13. Once boiling, add cornstarch mixture. Whisk for 1 minute over medium heat. Remove from heat.
14. When cooking is completed, carefully remove metal tray.
15. In serving bowl, toss shrimp with sauce.
16. Garnish with sliced scallion. Serve immediately.