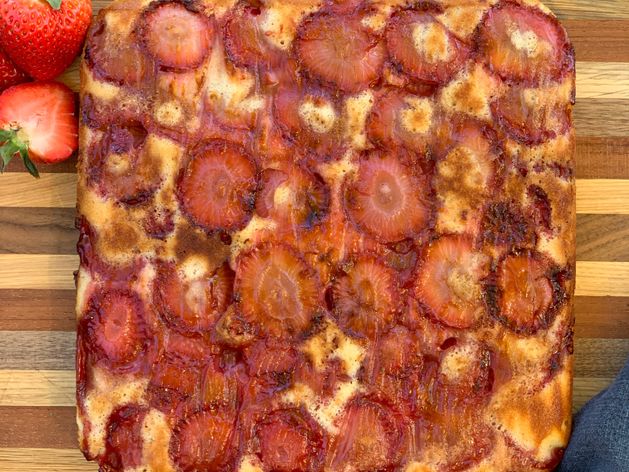 CUSTOM COOK
Strawberry Upside-Down Cake
Key: EJN-KYM-WMJ
About this Custom Cook
This cake combines a tangy buttermilk white cake base with deeply caramelized strawberries. The cake is baked at 350 F then seared from the bottom at the end to give the fruit great caramelization. You can use whatever fruit you have on hand for this cake, just make sure to slice it thinly.
Ingredients:
1 1/4 cups all-purpose flour
1 cup white sugar
1/2 teaspoon baking powder
1/4 teaspoon baking soda
1 pinch salt
2/3 cup buttermilk
1/4 cup (1/2 stick) butter, melted
1/2 teaspoon vanilla extract
2 egg whites
3/4 lb strawberries, thinly sliced
3 tablespoons brown sugar
1 tablespoon plus 1 1/2 teaspoons cornstarch
Instructions:
1. Grease Brava square pan. Line bottom of pan with parchment paper, then grease top of parchment paper.
2. In medium bowl, combine flour, sugar, baking powder, baking soda and salt.
3. In standing mixer with whisk attachment, add 2/3 cup buttermilk, melted butter and vanilla extract. Mix on low speed for 30 seconds.
4. Add egg whites to wet ingredients, turn speed to medium-high and whisk for 2 minutes.
5. Swap out whisk attachment for paddle attachment. While running on low speed, slowly add dry ingredient mixture until a smooth batter is formed. Do not over mix.
6. Select "Strawberry Upside-Down Cake" custom cook. Press green button to begin preheating.
7. In medium bowl, combine strawberries, brown sugar and cornstarch.
8. Place berries in even layer on bottom of square pan.
9. Pour cake batter over berries. Evenly spread batter.
10. When Brava is preheated, slide square pan into top oven shelf. Press green button to begin bake.
11. When the bake is completed, carefully remove square pan and let cool for 15 minutes.
12. After 15 minutes, take a large plate or cutting board and place over top of square pan. Carefully invert cake onto plate.
13. Let cake cool. Cut into individual pieces and serve.