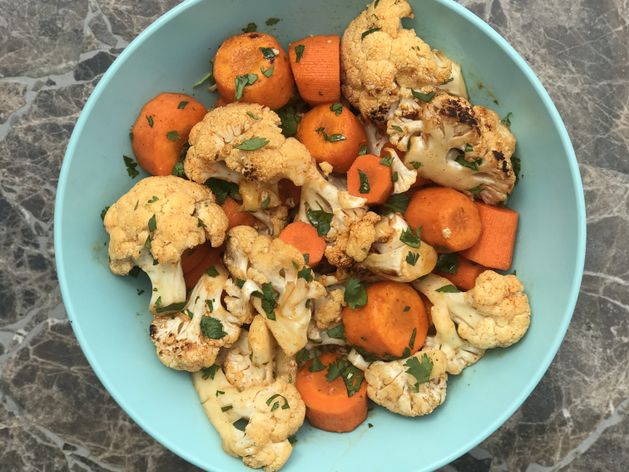 CUSTOM COOK
Moroccan-Spiced Carrots and Cauliflower
Key: EJH-XWU-HEC
About this Custom Cook
This custom cook gives the carrots and cauliflower combo cook a Moroccan twist. Cumin, ground ginger, paprika and honey are added to give the carrots and cauliflower an aromatic and slightly sweet flavor.
Ingredients:
2 cups sliced carrots (1-inch pieces)
3½ cups cauliflower florets (2-inch pieces)
1 clove garlic, finely chopped
2 tablespoons olive oil
2 tablespoons honey, divided
1 tablespoon lemon juice
1 teaspoon paprika
1 teaspoon cumin
3/4 teaspoon kosher salt
1/2 teaspoon ground ginger
1/4 teaspoon cinnamon
2 tablespoons cilantro, roughly chopped
Instructions:
1. In medium bowl, toss together carrots, cauliflower, garlic, olive oil, 1 tablespoon honey, lemon juice, paprika, cumin, kosher salt, ground ginger and cinnamon.
2. Evenly spread carrots in Zone 1 of Brava metal tray.
3. Evenly spread cauliflower in Zones 2 and 3 of metal tray.
4. Slide metal tray into top shelf.
5. Select "Moroccan-Spiced Carrots and Cauliflower" on your Brava touchscreen and follow instructions.
6. When cook is completed, carefully remove metal tray.
7. In bowl, toss carrots and cauliflower together with remaining 1 tablespoon of honey and chopped cilantro.
8. Serve.