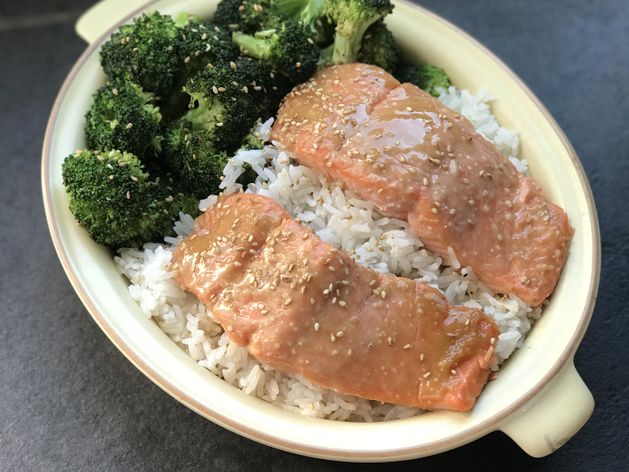 CUSTOM COOK
Miso Salmon with Broccoli
Key: EFT-EFM-JEM
About this Custom Cook
This custom cook is an easy way to pack the salmon and broccoli combo cook with tons of flavor. A miso glaze is spread on top of each piece of salmon to give it a slightly sweet, deep umami flavor. This dish is great on its own, but would also be delicious served with rice.
Ingredients:
1/2 teaspoon butter
4 cups broccoli florets (2-inch pieces)
2 teaspoons soy sauce, divided
1 teaspoon vegetable oil
2 skinless salmon fillets (1–1½ inches thick)
1 tablespoon white miso
2 teaspoons honey
1 1/2 teaspoons rice wine vinegar
1/4 teaspoon sesame oil
sesame seeds, to garnish (optional)
Instructions:
1. Let butter stand at room temperature for 10-15 minutes to soften.
2. In large bowl, combine broccoli, 1 teaspoon soy sauce and vegetable oil.
3. Place broccoli in zones 2 and 3 of Brava glass tray.
4. In small bowl, whisk together remaining teaspoon of soy sauce, miso, honey, rice wine vinegar and sesame oil.
5. Spread some butter on Zone 1 of Brava glass tray. Any uncovered butter may burn, so spread only enough for salmon to cover it.
6. Pat salmon dry with paper towels.
7. Place salmon on top of butter. Make sure thickest salmon fillet is on left side of Zone 1.
8. Brush top of each salmon filet with miso glaze. Any miso on the glass tray may burn, so only cover top of salmon with glaze.
9. Slide glass tray into bottom shelf.
10. Select "Miso Salmon and Broccoli" on your Brava touchscreen and follow instructions.
11. After plugging in TempSensor, insert it horizontally through center of salmon.
12. When your food is done, plate and garnish with sesame seeds (if desired).