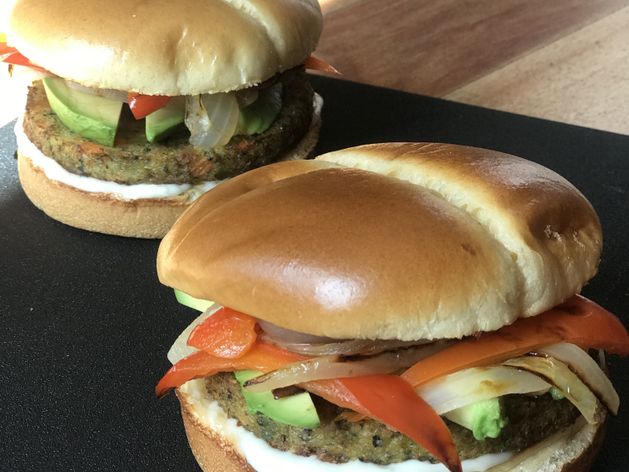 CUSTOM COOK
Ultimate Veggie Burger
Key: EFJ-PPX-AJN
About this Custom Cook
This veggie burger is loaded with flavor. The veggie burger patty is topped with a lemon garlic aioli, cooked onions and peppers as well as sliced avocado. Please use your favorite frozen veggie burger here! If you would like to make this vegan, simply substitute the mayonnaise called for with a vegan mayonnaise.
Ingredients:
2 frozen veggie burgers
2 cups sliced onions and bell peppers (¼-inch-thick slices)
2 tablespoons mayonnaise
1 garlic clove, finely chopped
1 1/2 teaspoons lemon juice
2 burger buns
1/2 avocado, sliced
Instructions:
1. Place veggie burgers in Zone 1 of Brava metal tray.
2. In medium bowl, toss together peppers and onions, 1 tablespoon cooking oil and a pinch of salt.
3. Evenly spread peppers and onions in Zones 2 and 3 of metal tray.
4. Slide metal tray into top shelf.
5. Select "Ultimate Veggie Burger" on your Brava touchscreen and follow instructions.
6. While burgers are cooking, make aioli.
7. In small bowl, combine mayonnaise, chopped garlic and lemon juice. Set aside.
8. When cook is complete, carefully remove metal tray.
9. Assemble burgers. Spread bottom burger bun with aioli then place veggie burger patty, sliced avocado and onions and peppers on top. Repeat with remaining veggie burger patty.
10. Serve.