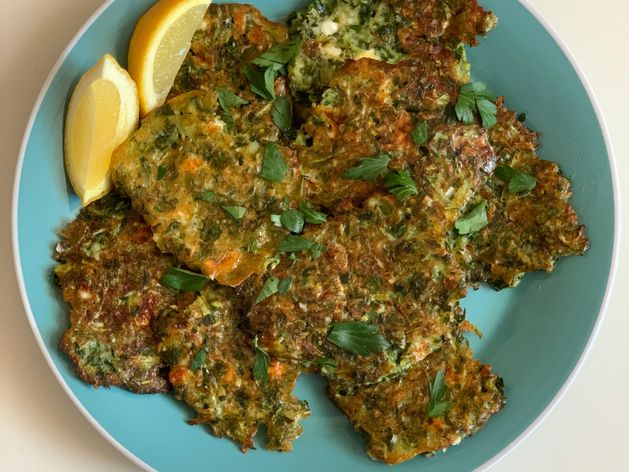 CUSTOM COOK
Zucchini Cakes
Key: CYU-MEY-HYF
About this Custom Cook
These zucchini cakes are my favorite way to eat zucchini. They are packed with the fresh flavor of green onions and herbs and also have pieces of feta mixed in to give them a salty, creamy note. These make a great appetizer, but also could be eaten for lunch. I would recommend serving these with some plain yogurt or a squeeze of lemon.
Ingredients:
2 cups grated zucchini
1/2 cup chopped green onions (white and green parts)
1/2 cup chopped Italian parsley
1/2 cup cornstarch
1 egg
2 cloves garlic, finely chopped
1 1/2 teaspoons dried oregano
1/2 teaspoon dried dill
1/2 teaspoon kosher salt
1/4 teaspoon black pepper
1/2 cup feta cheese
1/4 cup olive oil
Instructions:
1. Place grated zucchini in the center of a clean kitchen towel (or double layered paper towel). Using both hands, squeeze out as much liquid as possible.
2. Transfer zucchini to medium bowl.
3. To bowl, add green onions, parsley, cornstarch, egg, garlic, oregano, dill, kosher salt and black pepper. Combine.
4. Add feta cheese. Combine.
5. Evenly drizzle ¼ cup olive oil on Brava metal tray.
Place 9 piles, evenly spaced apart, in Zones 1, 2 and 3 of metal tray.
6. Using your fingers, pat down and spread each pile into a thin layer, making sure zucchini cakes don't touch each other. You will have 3 rows of 3 zucchini cakes.
7. Slide metal tray into top shelf. Press green button to begin cook.
Note: You will flip the zucchini cakes after 9 minutes.
8. When your food is done, transfer zucchini cakes to plate lined with a paper towel to drain.
9. Transfer to serving plate and serve immediately.