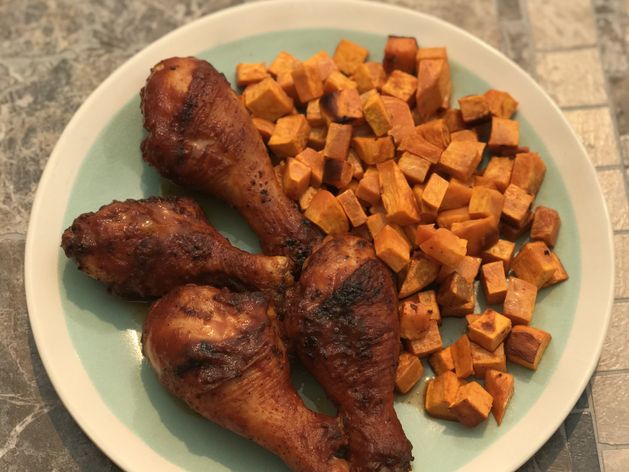 CUSTOM COOK
BBQ Chicken Drumsticks and Sweet Potatoes
Key: CYK-UTY-LNL
About this Custom Cook
This custom cook will give you all the flavor of barbecued chicken without the grill! The drumsticks are coated with a dry rub and then cooked in Brava alongside the sweet potatoes. The chicken is then coated in BBQ sauce (please use your favorite brand!). Note that the Brava metal tray is lined with foil here. If you would like your chicken darker, simply don't line the metal tray with foil.
Ingredients:
2½ cups diced sweet potatoes (½-inch pieces)
1 tablespoon vegetable oil
4 chicken drumsticks
1/2 teaspoon chili powder
1/2 teaspoon paprika
1/2 teaspoon kosher salt
1/4 teaspoon black pepper
1/4 teaspoon garlic powder
1/4 teaspoon onion powder
3 tablespoons BBQ sauce
Instructions:
1. Line Brava metal tray with foil.
2. Spray foil with cooking spray.
3. In medium bowl, toss together sweet potatoes, 1 tablespoon cooking oil and a pinch of salt.
4. Evenly spread sweet potatoes in Zones 2 and 3 of metal tray.
5. Pat chicken drumsticks dry with paper towel.
6. In small bowl, combine chili powder, paprika, salt, pepper, garlic powder and onion powder.
7. Sprinkle spice mixture evenly over drumsticks, covering all sides.
8. Place chicken lengthwise in Zone 1 of Brava metal tray with thickest portion on left side.
9. Slide metal tray into bottom shelf.
10. Select "BBQ Chicken Drumsticks and Sweet Potatoes" on your Brava touchscreen and follow instructions.
11. After plugging in TempSensor, insert it horizontally through thickest portion of chicken.
12. When cook is completed, carefully remove metal tray.
13. In medium bowl, toss chicken drumsticks with BBQ sauce.
14. Serve.