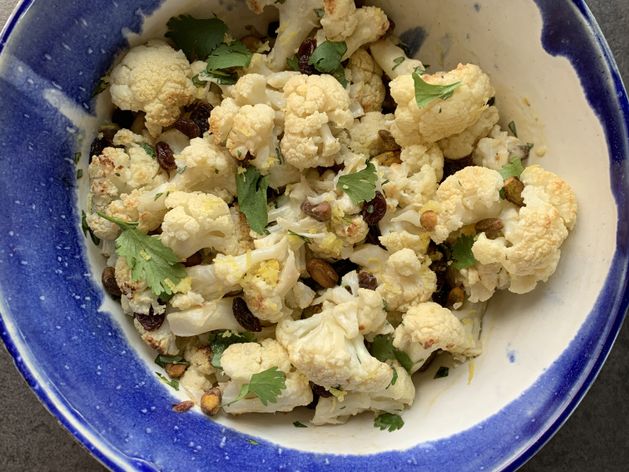 CUSTOM COOK
Roasted Cauliflower with Tahini Lemon Dressing
Key: CFR-JWF-CJY
About this Custom Cook
This custom cook roasts florets of cauliflower then tops them with a creamy, lemony tahini dressing. Pistachios are added for crunch, raisins for sweetness and parsley for some freshness. This is a delicious side dish to any meal. You could easily change this recipe up to use what you have on hand: you could use almond butter instead of tahini (I would recommend not using peanut butter here), any dried fruit instead of raisins and any type of nut instead of pistachios. Feel free to get creative!
Ingredients:
1 head cauliflower, cut into florets
2 teaspoons vegetable oil
2 tablespoons tahini
2 tablespoons lemon juice (about 1 lemon)
1 garlic clove, finely chopped
1/4 teaspoon kosher salt plus extra for seasoning cauliflower
2 tablespoons olive oil
3 tablespoons raisins
3 tablespoons pistachios
2 tablespoons chopped parsley plus 1 teaspoon for garnish
1 teaspoon lemon zest (optional)
Instructions:
1. In large bowl, toss cauliflower with 2 tablespoons of vegetable oil and a couple pinches of kosher salt.
2. Place cauliflower in zones 1, 2, and 3 of Brava metal tray.
3. Slide metal tray into top oven shelf. Press green button to begin cook.
4. While cauliflower is cooking, make dressing.
5. In small bowl, combine tahini, lemon juice, chopped garlic and 1/4 teaspoon kosher salt.
6. Slowly add 2 tablespoons of olive oil to dressing, stirring constantly until all oil is incorporated.
7. When cook is completed, carefully remove cauliflower.
8. In large serving bowl, combine cauliflower, tahini dressing, raisins, pistachios, 2 tablespoons chopped parsley and lemon zest.
9. Garnish with 1 teaspoon of chopped parsley.
10. Serve immediately.