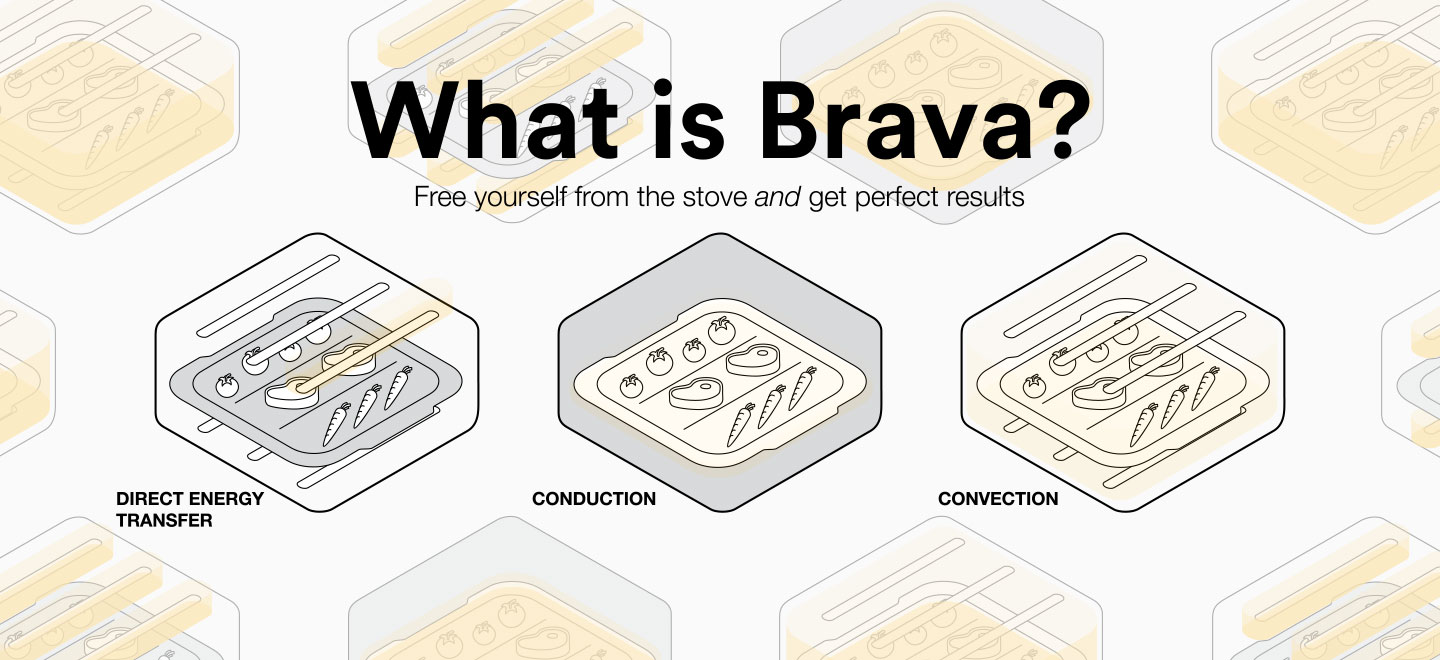 Brava uses a combination of visible and infrared light to cook food faster and more efficiently than the hot air of convection ovens, or the conduction of stovetops. Unlike air or cast iron, light can be easily targeted and adjusted. This means you can create food that otherwise would have been separately sauteed, grilled, seared and baked. Our chefs create recipe programs for specific foods—and combinations of foods—to make sure they're cooked perfectly every time.
Easy as 1, 2, 3
Pick your recipe, prep your tray, press the button!
Why Cook with Light?
Like a lightbulb on a dimmer, Brava's lamps can turn on, off, and in between, at the flick of a switch. And like spotlights, they can focus their energy on a specific zone without heating the area around it. This means faster cooking with no flipping, no stirring, and no preheating. Plus, there are no emissions or microwaves.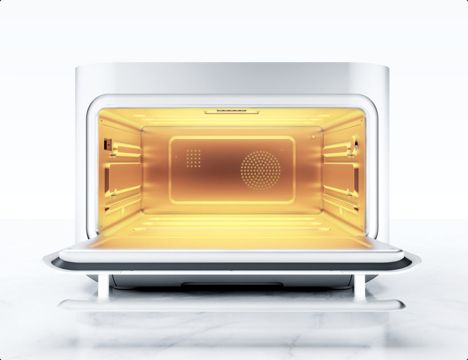 How it Works
Brava has six high powered lamps that get hotter than a wood fire pizza oven, eight temperature sensors, two particle detectors, and a camera (that you can watch from your phone). Like a chef using their senses, Brava uses these sensors to adjust on the fly, and to constantly improve the service.
Brava Recipe Programs
Through extensive testing, Brava chefs develop recipe programs for different dishes so each ingredient gets precisely cooked, as different lamps turn on, off, and change temperature. When you choose a setting and push the button, Brava takes over to ensure consistently delicious results.

Eco-friendly
Brava cooks a complete meal with less energy than it takes to just preheat a conventional oven. Our highly-controlled infrared emitters are twice as efficient as standard nichrome or quartz heating emitters found in most home ovens and toaster ovens.
But I already have an oven...
Ovens are great for Thanksgiving, and microwaves are good at reheating soup… but Brava is great at almost everything else. With its combination of time savings, ease of use, and downright delicious food, it's easy to see why most Brava owners use their traditional oven mainly for storage.
Oven
Ovens are slow to heat and slow to cool, plus they don't get hot enough to sear without overcooking. Brava heats faster, cooks hotter, and monitors your food so that it doesn't overcook.
Microwave
Microwaves primarily heat the water molecules in your food, which can leave your food dry in the middle and soggy on the outside.
Grill
Grills take a long time to heat up, require constant monitoring, and have to live outside. Brava can match the heat of the grill from the comfort of your kitchen, without adding the carcinogens.
Sous Vide
Takes a long time to cook, and you still need to sear after pulling your food from the bag. Brava monitors the internal temp for a perfect cook, so your food comes out in a fraction of the time and already has a perfect sear.
Frying Pan
Takes a long time to heat up and requires a lot of attention and technique to avoid over/under cooking or burning. Brava offers faster more consistent results without having to watch over the stove.
Pizza Oven
Pizza ovens can hit 1000˚ to achieve a crispy crust, but take a long time to heat, and are quick to burn food if you aren't careful. Brava cooks a crispy crust from fresh dough in 10 minutes with no preheat.
Broiler
Traditional broilers only heat from the top, but Brava's Sear function heats from the top and bottom to give maximum control and flexibility.

Worry Free Returns
Return your Brava for a full refund within 100 days of purchase if you don't love it.

No APR, No Late Fees
Get the Brava for 0% APR*, and no late fees.

1-Year Limited Warranty
Your Brava comes with a one year limited warranty that also covers all accessories.
*Subject to credit check and approval. Down payment may be required. For purchases under $50, limited payment options are available. Estimated payment amount excludes taxes and shipping fees. Affirm loans are made by Cross River Bank, a New Jersey State Chartered Commercial Bank, Member FDIC. See www.affirm.com/faqs for details.