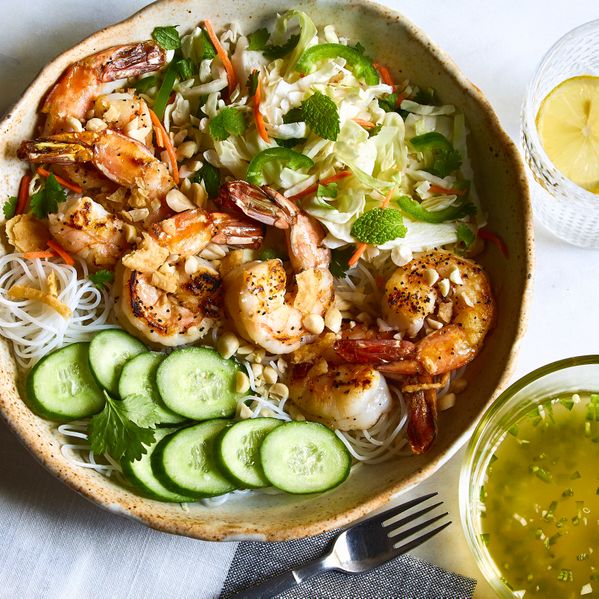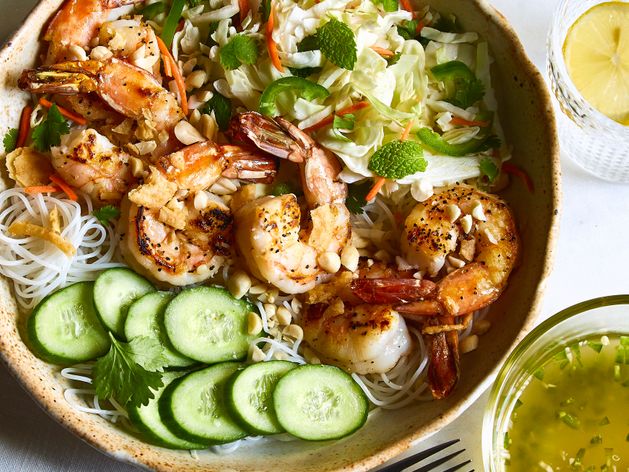 Ingredients
4 cloves peeled garlic
1 jalapeño pepper
¼ cup fish sauce
¼ cup sugar
2 lemons
1 cucumber
½ oz fresh mint
1 oz fresh cilantro
¾ lb coleslaw mix
10 oz dried vermicelli rice noodles
1 ½ lb peeled and deveined wild colossal Gulf shrimp (16 shrimp)
1 oz roasted peanuts
1 oz crispy shallots or onions
From Your Pantry
cooking oil
kosher salt and black pepper
Equipment
large saucepan
mixing bowls
colander or mesh strainer
Brava metal tray
Nutrition Information
620 calories per serving
Allergens: Shellfish, Peanuts, Fish
Tags
Chef's Picks
Dinner
Kid Friendly
Meal Kit
Dairy Free
Date Night
Metal Tray
Seafood
Serves 4
Shellfish
Signature Entree
Southeast Asian
Vietnamese
Weekend
Weeknight
Nutrition Information
620 calories per serving
Allergens: Shellfish, Peanuts, Fish
Keywords
Chef's Picks
Dinner
Kid Friendly
Meal Kit
Dairy Free
Date Night
Metal Tray
Seafood
Serves 4
Shellfish
Signature Entree
Southeast Asian
Vietnamese
Weekend
Weeknight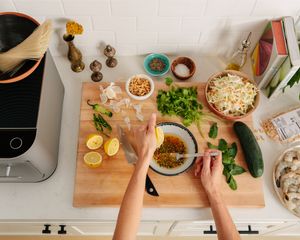 1
Prep nuoc cham (Vietnamese dipping sauce)
In large saucepan, bring at least 8 cups water to a boil (for cooking noodles in Step 3).
Meanwhile, mince garlic.
Remove jalapeño stem, halve jalapeño lengthwise and remove seeds. Finely chop half of jalapeño for nuoc cham; thinly slice half and set aside for salad. Use less if you don't like it spicy.
In small bowl, whisk together ½ cup warm water, garlic, chopped jalapeño, fish sauce, sugar, and juice 2 lemons.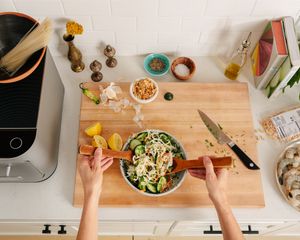 2
Make salad
Cut cucumber into ¼-inch-thick slices.
Remove mint leaves from stems. Coarsely chop mint leaves with cilantro (cilantro stems are delicious, too!).
In large bowl, toss together coleslaw mix, cucumber, sliced jalapeño and half of mint and cilantro. Save remaining mint and cilantro for garnish.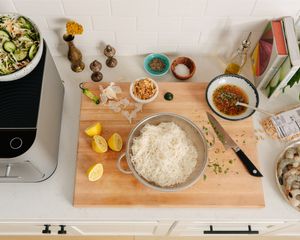 3
Cook & cool noodles
Add vermicelli rice noodles to pot of boiling water. Cook, stirring occasionally, until tender, about 5 minutes. Drain in a colander or mesh strainer, then run under cold water for 20–30 seconds to stop the cooking.
Shake off excess water and set aside.
4
Prep shrimp
Pat shrimp dry with paper towels.
In large bowl, toss together shrimp, 2 tablespoons cooking oil and a few pinches of salt and pepper.
Evenly spread shrimp in Zones 1, 2 and 3 of Brava metal tray.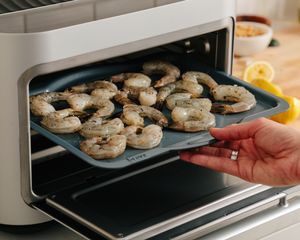 5
Slide metal tray into top oven shelf
Select "Vietnamese Noodle Bowl" on your oven touchscreen and follow instructions.
While shrimp cook, divide noodles and salad between individual bowls, placing them in separate piles.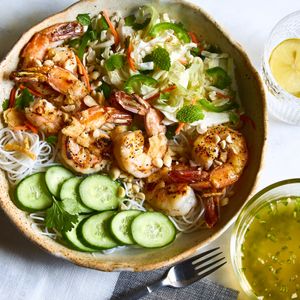 6
Finish noodle bowls & serve
When your food is done, place shrimp on top of noodles and salad. Garnish with peanuts, crispy shallots and remaining mint and cilantro. Liberally drizzle each bowl with nuoc cham just before eating.