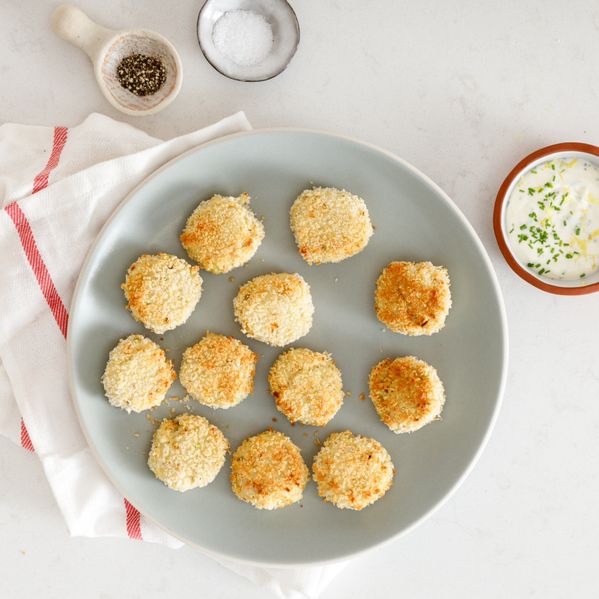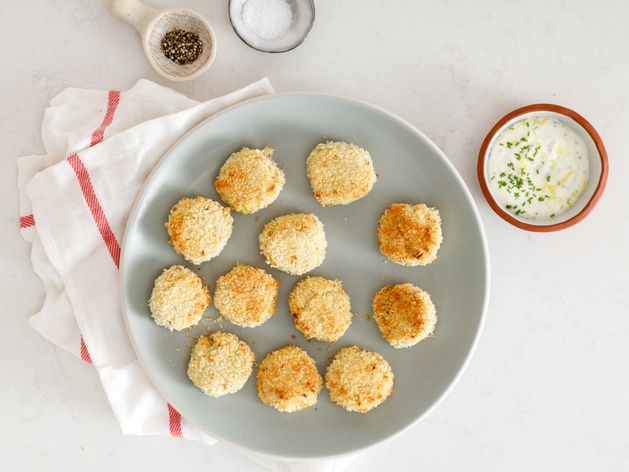 Ingredients
1 lb lump crabmeat, drained and picked over for shells
3 tablespoons thinly sliced green onions (white parts only, from about 4 green onions)
1 egg
2 cups panko bread crumbs
1 teaspoon Worcestershire sauce
¾ cup mayonnaise
1 tablespoon Dijon mustard
Zest of 2 Meyer or regular lemons
Juice of ½ Meyer or regular lemon
1 clove garlic, minced
1 tablespoon minced fresh chives
From Your Pantry
cooking oil
kosher salt and black pepper
flaky sea salt (optional)
Equipment
mixing bowls
Brava metal tray
Nutrition Information
Allergens: Shellfish, Eggs, Wheat (Gluten)
Tags
Dinner
Starter
Appetizer
Dairy Free
Metal Tray
Seafood
Serves 4
Side
Snack
Nutrition Information
Allergens: Shellfish, Eggs, Wheat (Gluten)
Keywords
Dinner
Starter
Appetizer
Dairy Free
Metal Tray
Seafood
Serves 4
Side
Snack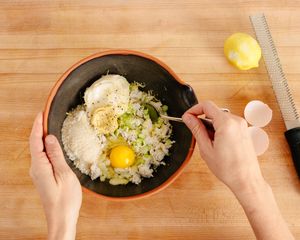 1
Prep crab cake mixture
In medium bowl, stir together crabmeat, green onions, egg, 3 tablespoons panko bread crumbs, Worcestershire sauce, ¼ cup of the mayonnaise, Dijon mustard, half of lemon zest and a few pinches of salt and pepper.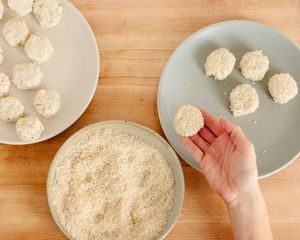 2
Form crab cakes
Using your hands, form crab cake mixture into patties ¾ inch thick and 1½ inches wide. You should have about 24 crab cakes.
Put remaining panko bread crumbs on a plate or shallow bowl; coat crab cakes on all sides with bread crumbs.
Refrigerate crab cakes for 15 minutes to 1 hour.
While crab cakes are refrigerated, prepare aioli.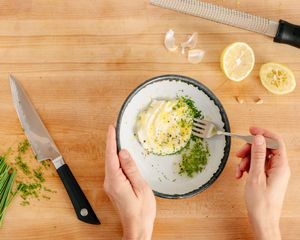 3
Make Meyer lemon aioli
In small bowl, stir together remaining ½ cup mayonnaise, remaining lemon zest, lemon juice, garlic, chives and a pinch of salt and pepper.
Refrigerate aioli until ready to serve.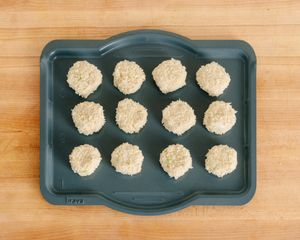 4
Cook crab cakes
Evenly spread a few tablespoons cooking oil on Zones 1, 2 and 3 of Brava metal tray.
Place 12 crab cakes, evenly spaced apart, in Zones 1, 2 and 3 of metal tray (4 per zone).
Slide metal tray into top oven shelf.
Select "Crab Cakes" on your oven touchscreen and follow instructions.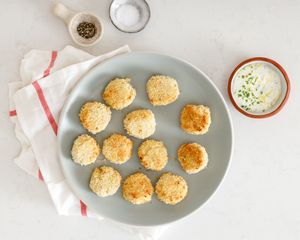 5
Serve
When your food is done, transfer crab cakes to serving platter.
Sprinkle with flaky sea salt, if desired, and serve Meyer lemon aioli on the side.
Before cooking remaining crab cakes, let metal tray and oven cool for about 10 minutes before proceeding.