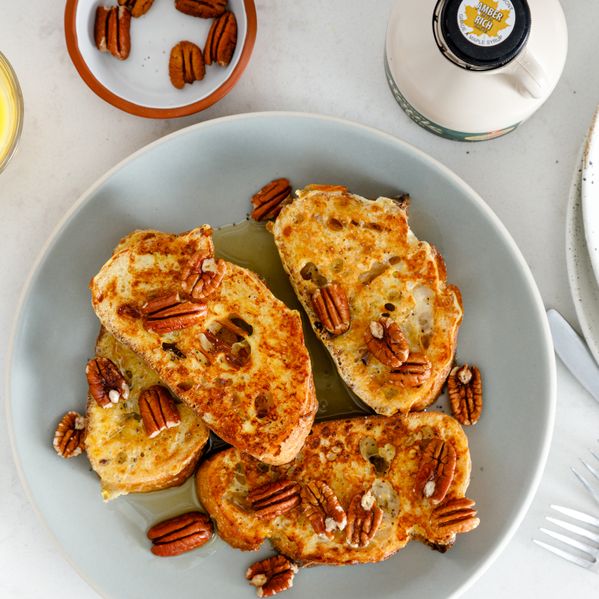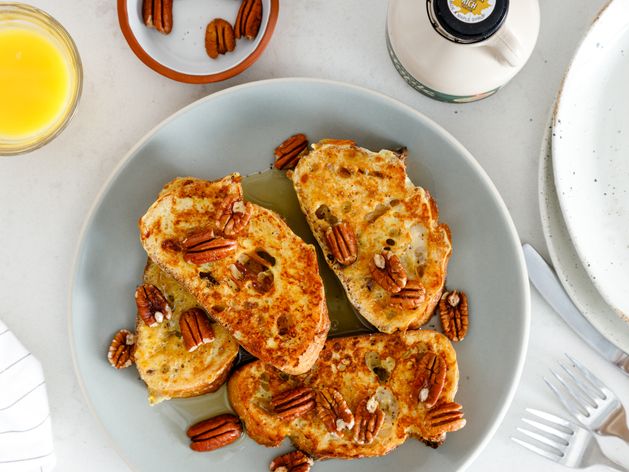 Ingredients
1 cup milk
½ cup heavy cream
2 eggs
1 egg yolk
3 tablespoons sugar
¼ teaspoon vanilla extract
¼ teaspoon ground cinnamon
¼ teaspoon ground ginger
2 teaspoons poppy seeds
Zest of 1 lemon
4 slices French bread (1 inch thick), preferably from country-style loaf or batard (not baguette)
Maple syrup for serving
Fresh fruit for serving (optional)
Chopped pecans or almonds for serving (optional)
From Your Pantry
butter
kosher salt
Equipment
Brava metal tray
baking sheet
mixing bowl
whisk
Nutrition Information
Allergens: Milk, Eggs, Wheat (Gluten)
Tags
Breakfast
Sweets
Vegetarian
Kid Friendly
All American
Breads
Metal Tray
Serves 4
Weekend
Nutrition Information
Allergens: Milk, Eggs, Wheat (Gluten)
Keywords
Breakfast
Sweets
Vegetarian
Kid Friendly
All American
Breads
Metal Tray
Serves 4
Weekend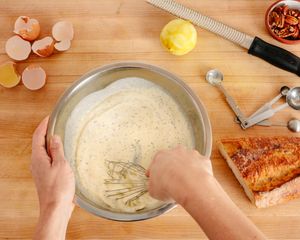 1
Prep custard
Set out 2 teaspoons butter to soften for 15–30 minutes.
If you prefer classic French toast, omit poppy seeds and lemon zest.
In medium bowl, whisk together milk, cream, eggs, egg yolk, sugar, vanilla extract, cinnamon, ginger, poppy seeds, lemon zest and ½ teaspoon salt.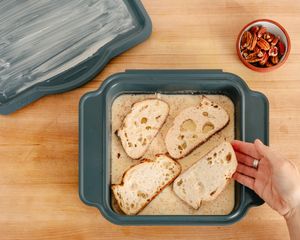 2
Soak bread in custard
Pour custard mixture into baking sheet. Place bread slices in custard and soak for 30 seconds to 1 minute. Flip and soak for 30 seconds more.
While bread soaks, evenly spread softened butter on Zones 1, 2 and 3 of Brava metal tray.
3
Bake French Toast
Remove bread slices from custard, letting excess drip off, and place slices, evenly spaced apart, in Zones 1, 2 and 3 of metal tray.
Slide metal tray into top oven shelf.
Select "Lemon Poppy French Toast" on your oven touchscreen and follow instructions.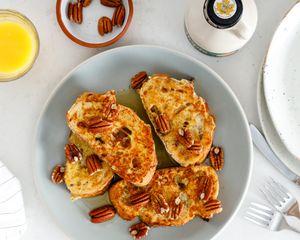 4
Serve
When your food is done, transfer French toast to individual plates.
Drizzle with maple syrup and, if desired, top with fresh fruit and/or pecans or almonds.