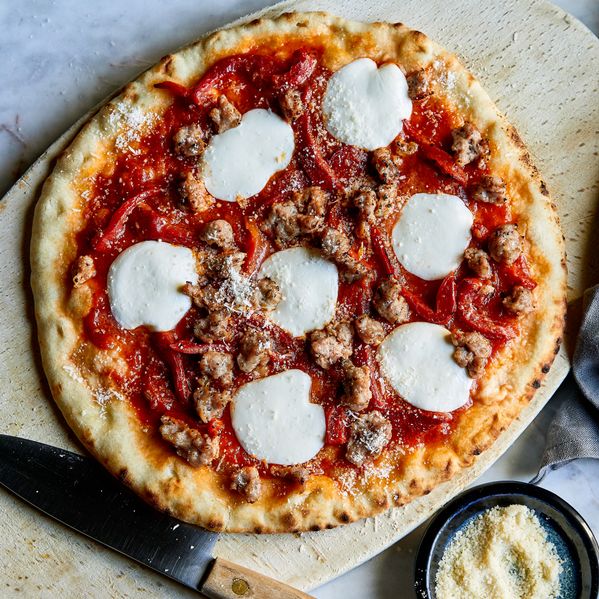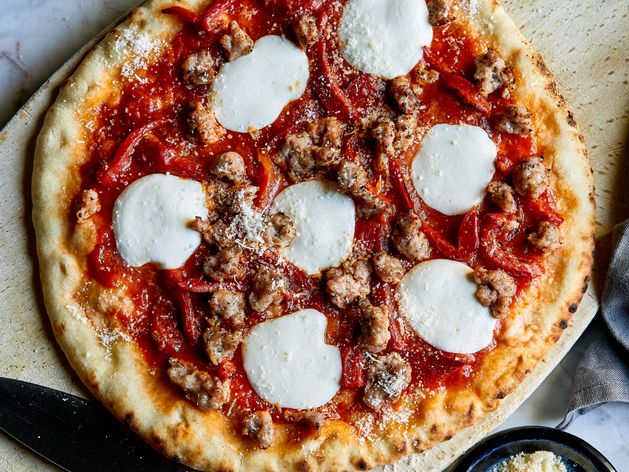 Ingredients
2 par-baked pizza crusts (10-11 inches round)
3 oz sliced roasted red bell peppers
½ cup San Marzano tomato puree
½ lb fresh mozzarella
¼ lb nitrate-free sweet Italian sausage
2 tablespoons grated Parmigiano-Reggiano
From Your Pantry
extra-virgin olive oil
kosher salt and black pepper
Equipment
Brava metal tray
pastry brush (optional)
Nutrition Information
910 calories per serving
Allergens: Milk, Wheat (Gluten)
Tags
Dinner
Kid Friendly
Crowd-pleaser
Gluten Filled
Italian
Metal Tray
Pizza
Pork
Sausage
Serves 4
Weeknight
Nutrition Information
910 calories per serving
Allergens: Milk, Wheat (Gluten)
Keywords
Dinner
Kid Friendly
Crowd-pleaser
Gluten Filled
Italian
Metal Tray
Pizza
Pork
Sausage
Serves 4
Weeknight
1
Prep pizza crust
You can bake only 1 pizza at a time. If you are preparing 2, assemble both (assemble second pizza on a cutting board); then bake one after the other, letting metal tray and oven cool for 10 minutes in between. If you are baking only 1 pizza, oil just 1 crust and prepare half of the ingredients.
Place 1 pizza crust on Brava metal tray. Using pastry brush or your hands, evenly spread 1 tablespoon extra-virgin olive oil over entire crust.
Season crust with a pinch of salt and pepper.
2
Assemble pizza
Drain liquid from roasted red bell peppers.
Pour half of tomato puree in middle of crust. Using back of spoon or ladle, spread puree evenly, leaving ½ inch uncovered around edges.
Arrange half of mozzarella (about 7 slices) and half of peppers on top.
Using your fingers, pinch small chunks of sausage (about the size of a quarter) and evenly distribute on pizza. Use half of sausage per pizza.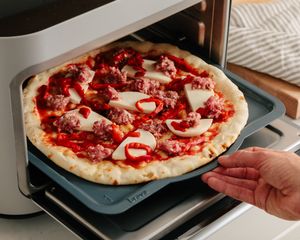 3
Slide metal tray into bottom oven shelf
Select "Sweet Italian Sausage Pizza" on your oven touchscreen and follow instructions.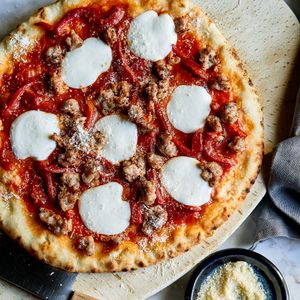 4
Serve
When your food is done, transfer pizza to cutting board. If you want to bake a second pizza, let metal tray and oven cool for about 10 minutes before proceeding.
Sprinkle baked pizza with half of Parmigiano-Reggiano and drizzle with 1 tablespoon extra-virgin olive oil.
Cut pizza into slices.