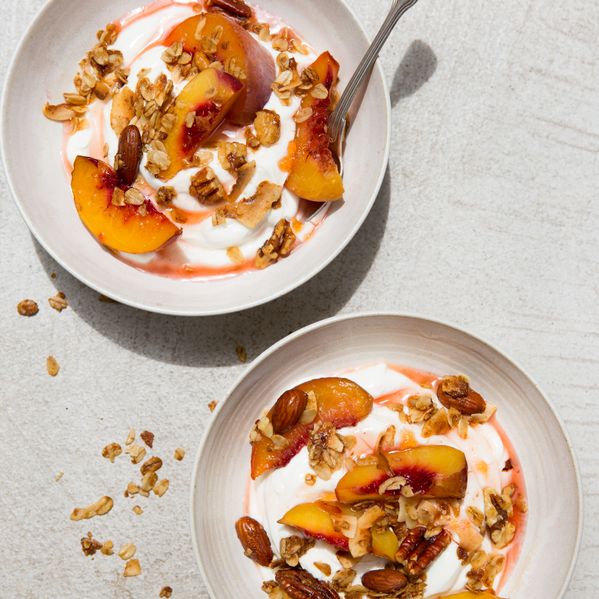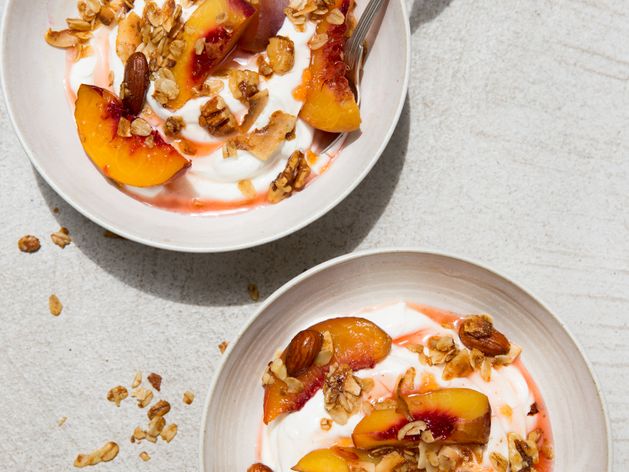 Ingredients
1 ½ cups old-fashioned rolled oats, plus more if needed
½ cup blanched, slivered raw almonds
¼ cup raw pumpkin seeds
¼ raw sunflower seeds
¼ cup golden raisins
¼ cup dried cranberries
¼ cup honey
¼ cup canola oil
¼ cup packed light brown sugar
1 ½ tablespoon vanilla extract
⅛ teaspoon ground cinnamon
2 tablespoons diced candied ginger (¼-inch pieces)
From Your Pantry
kosher salt
Equipment
medium saucepan
Brava metal tray
colander
mixing bowls
Nutrition Information
Allergens: Tree nuts
Tags
Breakfast
Sweets
Vegetarian
Kid Friendly
Dairy Free
Fruits
Metal Tray
Serves 4
Snack
Year Round
Nutrition Information
Allergens: Tree nuts
Keywords
Breakfast
Sweets
Vegetarian
Kid Friendly
Dairy Free
Fruits
Metal Tray
Serves 4
Snack
Year Round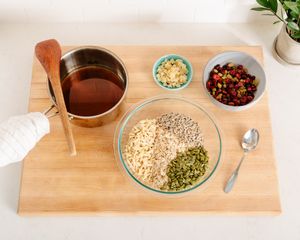 1
Prep wet & dry ingredients
In large bowl, toss together oats, almonds, pumpkin seeds and sunflower seeds.
In medium bowl, toss together golden raisins and dried cranberries.
In medium saucepan, stir together honey, canola oil, brown sugar, vanilla extract, cinnamon, ¼ teaspoon salt and ½ cup water.
Place over medium heat and stir until honey and brown sugar have dissolved, about 3 minutes. Do not let mixture simmer or boil.
2
Combine wet & dry ingredients
Add three-fourths of honey mixture to bowl with oat mixture; stir well. Oats should feel wet but there should not be extra liquid in bowl; add a few tablespoons more oats if needed.
Add remaining honey mixture to bowl with dried fruits; let stand for 10 minutes.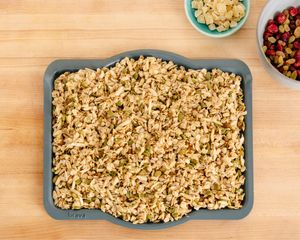 3
Preheat oven & bake granola
Select "Bake" on your oven touchscreen. Set temperature to 300°F and timer for 30 minutes. Press green button to begin preheating.
Evenly spread granola in Zones 1, 2 and 3 of Brava metal tray.
When oven is preheated, slide metal tray into bottom oven shelf. Press green button again to begin baking and bake for 30 minutes.
Meanwhile, drain dried fruits in colander; set aside until last 30 minutes of cooking.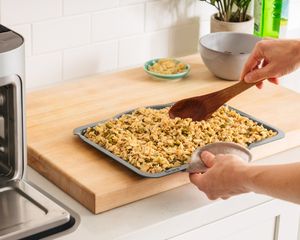 4
Stir granola every 30 minutes
After 30 minutes, carefully remove tray and stir granola well.
Bake at 300°F for 30 minutes more.
After 30 minutes, carefully remove tray, add dried fruits to granola and stir well.
Bake at 300°F for 30 minutes more.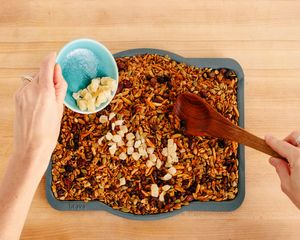 5
Add candied ginger & cool
After baking for a total of 1½ hours, let granola cool to room temperature. If nuts and oats are crunchy, granola is done. If they are chewy, bake at 300°F for 15 minutes more.
Stir candied ginger into finished granola.
Store granola in airtight container at room temperature for up to 1 month.