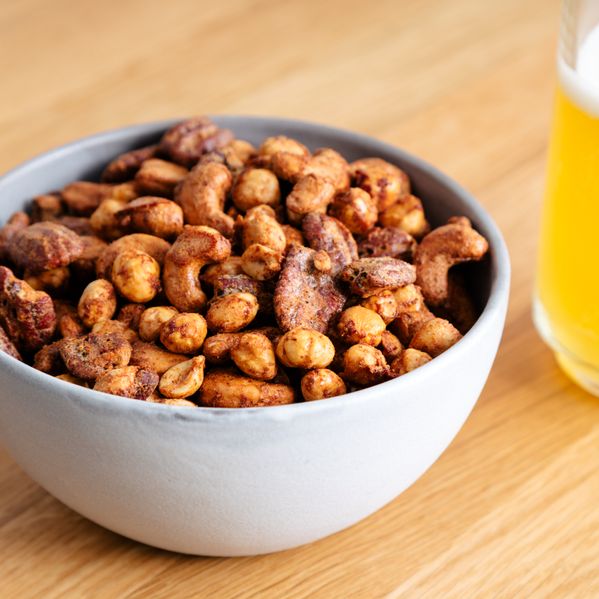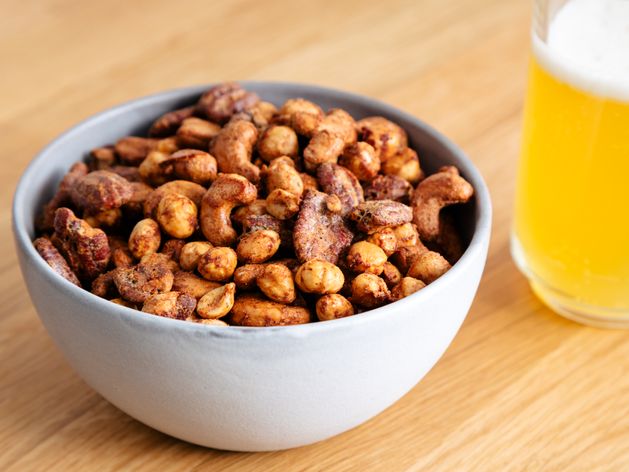 Ingredients
1 cup raw pecans
1 cup blanched raw hazelnuts
1 cup blanched raw peanuts
1 cup blanched raw cashews
1 ¼ teaspoons garlic powder
1 ¼ teaspoons chili powder
1 ¼ teaspoons Old Bay® Seasoning
1 teaspoon ground cumin
2 egg whites
1 tablespoon sugar
From Your Pantry
kosher salt
Equipment
mixing bowls
whisk
Brava metal tray
Nutrition Information
Allergens: Tree nuts, Eggs
Tags
Starter
Vegetarian
Kid Friendly
Appetizer
Dairy Free
Gluten Free
Keto
Metal Tray
Nuts
Serves 4
Side
Signature Entree
Weekend
Weeknight
Nutrition Information
Allergens: Tree nuts, Eggs
Keywords
Starter
Vegetarian
Kid Friendly
Appetizer
Dairy Free
Gluten Free
Keto
Metal Tray
Nuts
Serves 4
Side
Signature Entree
Weekend
Weeknight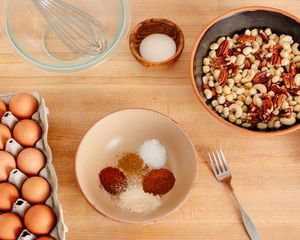 1
Prep nuts & spices
In large bowl, toss together pecans, peanuts, hazelnuts and cashews.
In small bowl, stir together garlic powder, chili powder, Old Bay® Seasoning, cumin and 1½ teaspoons salt.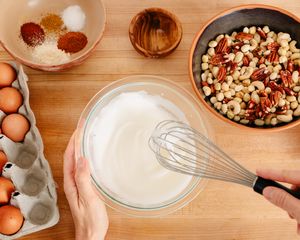 2
Preheat oven, whip egg whites & season nuts
Select "Bake" on your oven touchscreen. Set temperature to 350°F and timer for 15 minutes. Press green button to begin preheating.
In medium bowl, whisk egg whites until soft peaks form, gradually adding sugar.
Add egg whites to bowl with nuts and stir to coat. Add spice mixture and stir until incorporated.
Evenly spread nuts in Zones 1, 2 and 3 of Brava metal tray.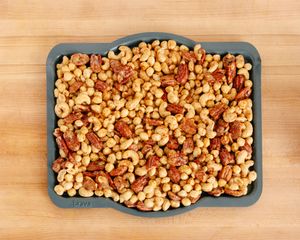 3
Roast nuts
When oven is preheated, slide metal tray into top oven shelf. Press green button again to begin baking and bake for 15 minutes.
Check nuts after 15 minutes; they should feel dry and crisp. If they still feel soft, continue roasting, checking every 5 minutes, until crisp.
When your food is done, let nuts cool to room temperature.
Store nuts in airtight container at room temperature for up to 2 weeks.