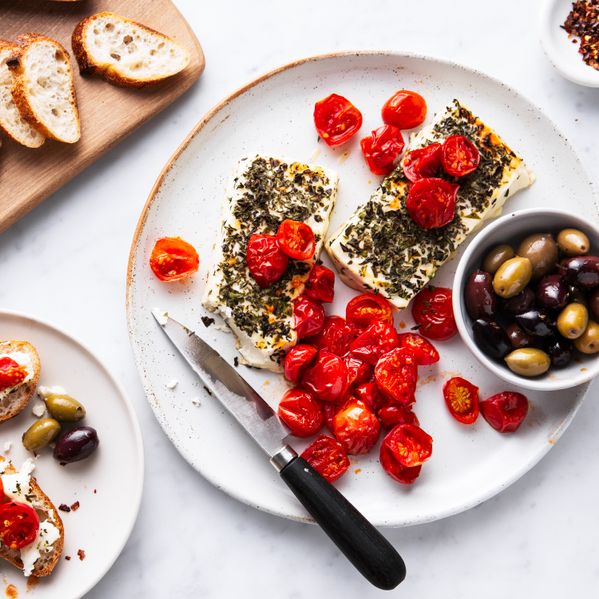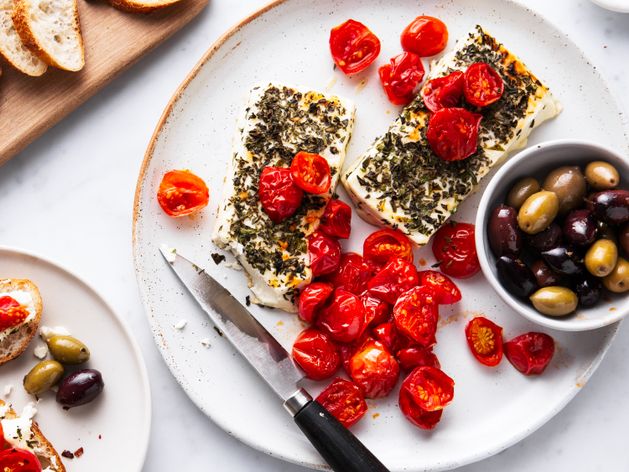 Ingredients
¾ lb block feta cheese in brine
2 tablespoons chopped fresh oregano
1 ½ cups cherry tomatoes (about 6 oz), halved
¼ teaspoon red pepper flakes (optional)
½ cup mixed marinated olives, drained
Crusty bread or crackers for serving (optional)
From Your Pantry
extra-virgin olive oil
kosher salt
Equipment
Brava metal tray
mixing bowls
Nutrition Information
Allergens: Milk
Tags
Lunch
Dinner
Starter
Vegetarian
Appetizer
Gluten Free
Keto
Metal Tray
Serves 4
Snack
Nutrition Information
Allergens: Milk
Keywords
Lunch
Dinner
Starter
Vegetarian
Appetizer
Gluten Free
Keto
Metal Tray
Serves 4
Snack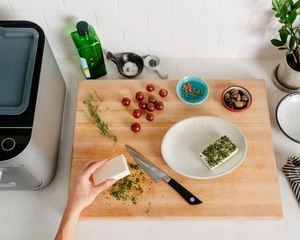 1
Prep cheese
This recipe is for a full batch. If you want to make a half batch, cut the ingredients in half.
Halve feta crosswise through center, forming two 1-inch-tall rectangles.
Gently coat feta on all sides with oregano. For best results, let feta stand at room temperature for 10 minutes before baking.
Place feta slices in single layer in Zone 3 of Brava metal tray.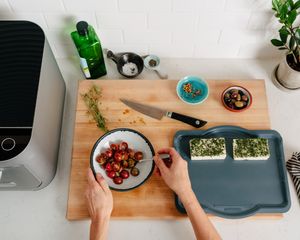 2
Prep cherry tomatoes
In small bowl, toss together tomatoes, 2 teaspoons extra-virgin olive oil and a pinch of salt.
Evenly spread tomatoes in Zone 1 of metal tray.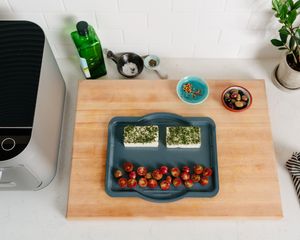 3
Slide metal tray into top oven shelf
Select "Baked Feta" on your oven touchscreen and follow instructions. For ¾-lb portion, select "Meal for 4"; for 6-oz portion, select "Meal for 2."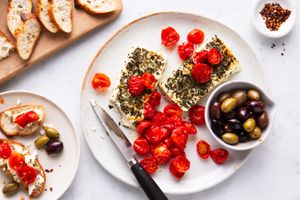 4
Finish & serve
When your food is done, transfer feta to a serving platter.
If desired, sprinkle feta with red pepper flakes.
Top feta with cherry tomatoes. Drizzle extra-virgin olive oil over feta and tomatoes.
Serve with olives and, if desired, crusty bread or crackers.