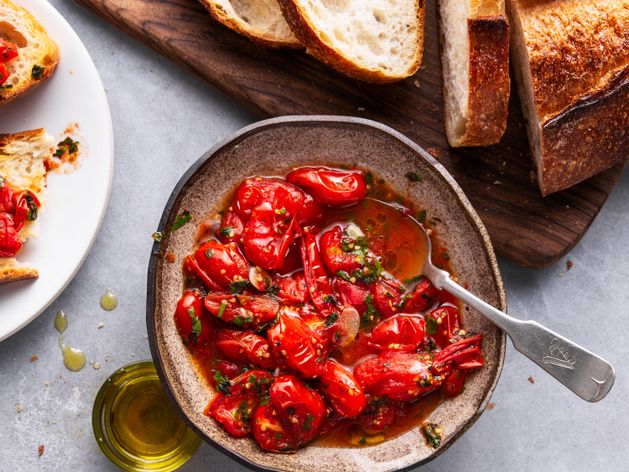 Ingredients
4 cups cherry or grape tomatoes (about 1 lb), halved
2 cloves garlic, thinly sliced
2 tablespoons chopped fresh herbs, such as basil, oregano, thyme, mint and/or flat-leaf parsley
½ teaspoon red wine vinegar (optional)
½ teaspoon sugar (optional)
Slices of toasted crusty bread, preferably ciabatta, focaccia or Italian
From Your Pantry
extra-virgin olive oil
kosher salt
flaky sea salt (optional)
Equipment
mixing bowls
Brava metal tray
Nutrition Information
Allergens: Wheat (Gluten)
Tags
Lunch
Dinner
Starter
Vegetarian
Kid Friendly
Appetizer
California
Dairy Free
Italian
Keto
Mediterranean
Metal Tray
Serves 4
Side
Vegan
Vegetables
Nutrition Information
Allergens: Wheat (Gluten)
Keywords
Lunch
Dinner
Starter
Vegetarian
Kid Friendly
Appetizer
California
Dairy Free
Italian
Keto
Mediterranean
Metal Tray
Serves 4
Side
Vegan
Vegetables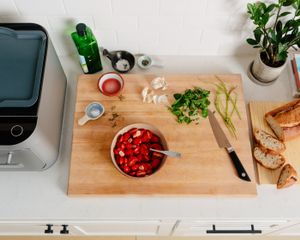 1
Prep tomatoes
In medium bowl, toss together tomatoes, garlic, 2 teaspoons extra-virgin olive oil and 1½ teaspoons kosher salt.
Evenly spread tomatoes in Zones 1, 2 and 3 of Brava metal tray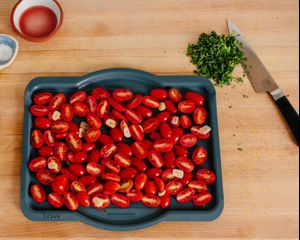 2
Slide metal tray into top oven shelf
Select "Roasted Tomato Bruschetta" on your oven touchscreen and follow instructions.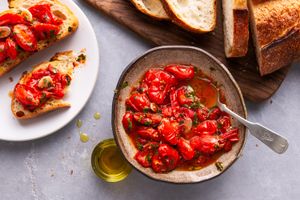 3
Finish & serve
When your food is done, transfer tomatoes to medium bowl. Add herbs and ¼ cup extra-virgin olive oil; stir gently.
Depending on the time of year, if tomatoes need more tartness or sweetness, add vinegar or sugar, if desired.
Spoon tomatoes onto toasted bread slices and drizzle with extra-virgin olive oil.
Sprinkle with flaky sea salt, if desired.