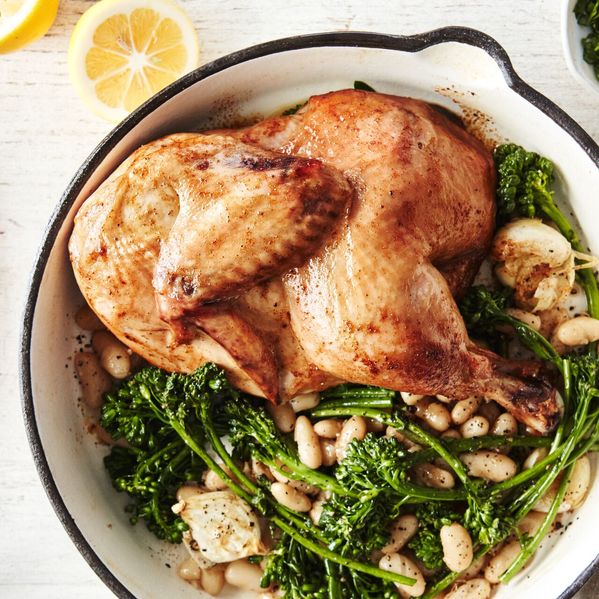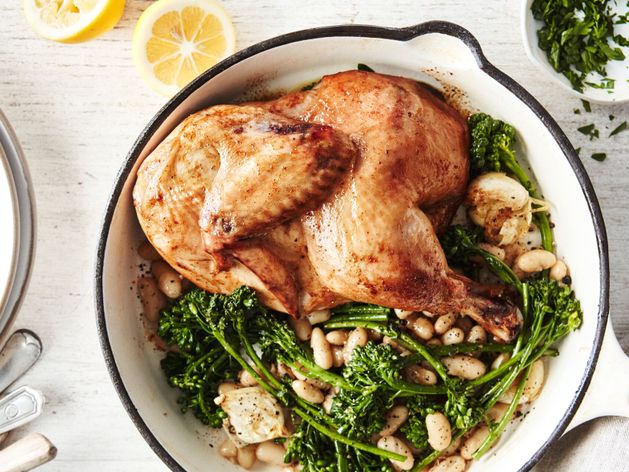 Ingredients
½ RoliRoti sous vide chicken
1 bunch baby broccoli
3 cloves garlic
15 oz cooked cannellini beans, drained
1 lemon, cut into wedges
1 pinch parsley
From Your Pantry
Olive oil
Salt & Pepper
Equipment
Brava metal tray
Brava TempSensor
Nutrition Information
Allergens: None
Tags
Lunch
Dinner
Kid Friendly
Meal Kit
Good Eggs
Chicken
Dairy Free
Gluten Free
Metal Tray
Serves 2
Weeknight
Nutrition Information
Allergens: None
Keywords
Lunch
Dinner
Kid Friendly
Meal Kit
Good Eggs
Chicken
Dairy Free
Gluten Free
Metal Tray
Serves 2
Weeknight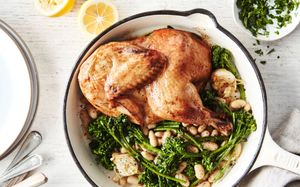 1
Instructions
Place the sous vide chicken skin-side up in Zone 1 of metal tray. Make sure breast is on left side of tray. Evenly spread beans in Zones 2 and 3 of metal tray and place broccoli on top of beans. Drizzle everything with a bit of cooking oil, and tuck the garlic cloves and lemon around the meat and veggies.
Slide metal tray into bottom oven shelf. After plugging in TempSensor, insert it horizontally through center of chicken breast.
Select "Good Eggs One-Pan Chicken" and follow instructions.
When your food is done, toss everything together with the pan juices from the chicken. Carve and enjoy!