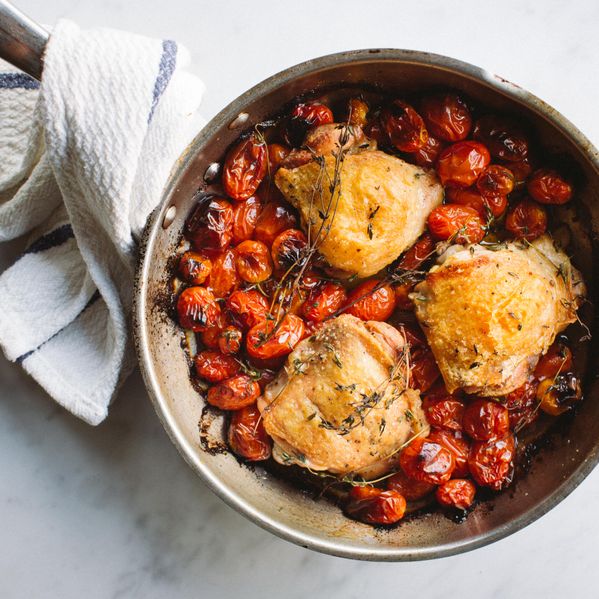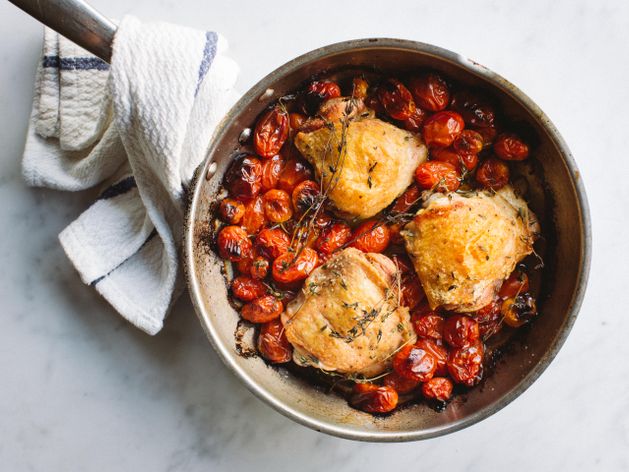 Ingredients
Chicken Thighs
Thyme
cherry tomatoes
Garlic
From Your Pantry
Olive oil
Salt & Pepper
Equipment
Brava metal tray
Brava TempSensor
Nutrition Information
Allergens: None
Tags
Lunch
Dinner
Kid Friendly
Meal Kit
Good Eggs
Chicken
Dairy Free
Entree
Gluten Free
Keto
Metal Tray
Weeknight
Nutrition Information
Allergens: None
Keywords
Lunch
Dinner
Kid Friendly
Meal Kit
Good Eggs
Chicken
Dairy Free
Entree
Gluten Free
Keto
Metal Tray
Weeknight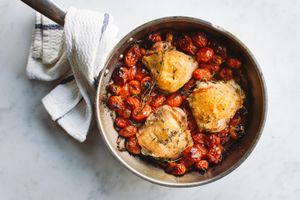 1
Instructions
Pat dry chicken and place skin-side up in Zone 2 of metal tray. Make sure the thickest chicken thigh is on the left side of Zone 2.
Salt and pepper the chicken.
Place cherry tomatoes in Zones 1 and 3 of metal tray. Drizzle with olive oil and sprinkle with salt. Tuck in a few sprigs of thyme and a smashed clove of garlic. Slide metal tray into bottom oven shelf. After plugging in TempSensor, insert it, parallel to bone, through center of chicken thigh. It's okay if TempSensor touches the bone.
Select "Good Eggs Chicken Thighs" on your oven touchscreen and follow instructions.
When your food is done, remove chicken from the tray and transfer to serving plates. Use a spoon to roll the tomatoes around in chicken drippings. Serve with a simple salad and some crusty bread to sop up all of the delicious juices.