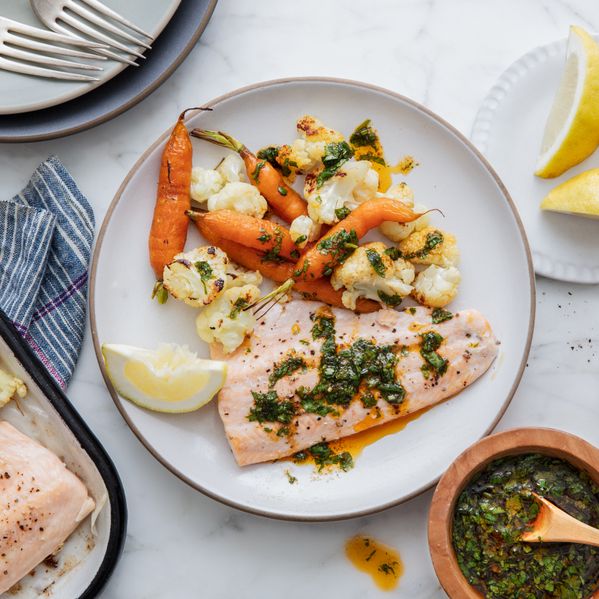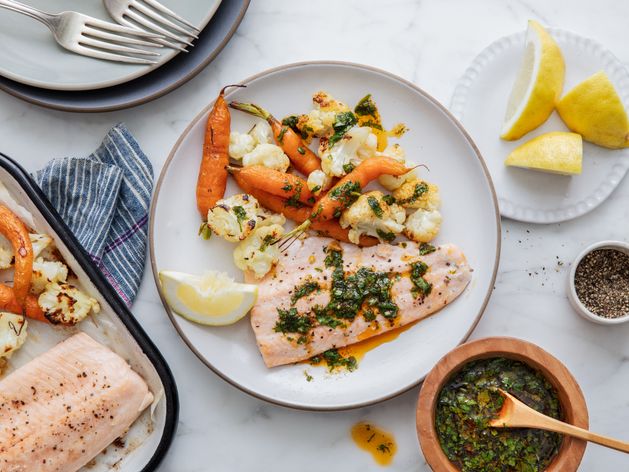 Ingredients
baby carrots
cauliflower florets
McFarland Springs trout
lemon
Chermoula (green herb sauce)
From Your Pantry
salt
Olive oil
Equipment
Brava metal tray
Brava glass tray
Nutrition Information
Allergens: None
Tags
Lunch
Dinner
Meal Kit
Good Eggs
Dairy Free
Gluten Free
Metal Tray
Nutrition Information
Allergens: None
Keywords
Lunch
Dinner
Meal Kit
Good Eggs
Dairy Free
Gluten Free
Metal Tray
1
Instructions
Trim and rinse baby carrots. Cut into quarters and add to a bowl with the cauliflower florets. Toss the vegetables with a glug of olive oil and a sprinkle of salt. Spread evenly across Zones 1, 2 and 3 of metal tray and slide into top oven shelf.
Evenly spread a small glug of olive oil on Zones 1, 2 and 3 of glass tray. Pat dry trout, season with salt, and place skin side down in Zones 1, 2 and 3 of glass tray. Slide glass tray into bottom oven shelf. Select "Good Eggs Trout and Carrots" on the oven touchscreen and follow instructions.
Remove trays from the oven. Serve the fish with the roasted vegetables and finish with a squeeze of lemon and a drizzle of chermoula.