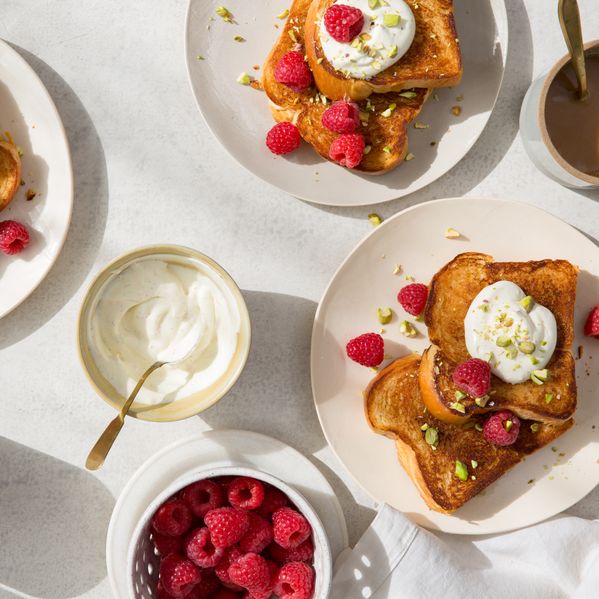 Ingredients
1 cup whole milk Greek yogurt
½ cup heavy cream
¼ cup plus 2 tablespoons sugar
¼ teaspoon orange zest (optional)
1 tablespoon fresh orange juice
¼ teaspoon vanilla extract
1 tablespoon ground cinnamon
4 slices brioche (1 inch thick)
2 tablespoons chopped roasted pistachios or other nuts
2 tablespoons currants or raisins
From Your Pantry
butter
kosher salt
Equipment
electric stand mixer with whisk attachment (preferred) or large bowl and balloon whisk
mixing bowl
Brava metal tray
Nutrition Information
Allergens: Tree nuts, Milk, Wheat (Gluten)
Tags
Breakfast
Sweets
Vegetarian
Kid Friendly
All American
Breads
Crowd-pleaser
Metal Tray
Serves 4
Nutrition Information
Allergens: Tree nuts, Milk, Wheat (Gluten)
Keywords
Breakfast
Sweets
Vegetarian
Kid Friendly
All American
Breads
Crowd-pleaser
Metal Tray
Serves 4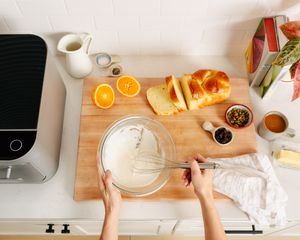 1
Whip yogurt
Set out a few tablespoons of butter to soften for 15 to 30 minutes.
In electric stand mixer bowl (or large mixing bowl), combine yogurt, cream, 2 tablespoons sugar, orange zest (if using), orange juice, vanilla extract and ¼ teaspoon salt.
Fix mixer with whisk attachment and whip on medium speed until yogurt is light and fluffy, about 5 minutes. Alternatively, whip yogurt in large bowl with balloon whisk. Set aside until ready to serve.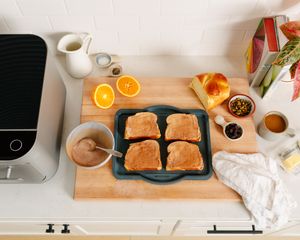 2
Prep toast
In small bowl, stir together remaining ¼ cup sugar and cinnamon.
Evenly spread softened butter on both sides of brioche slices.
Sprinkle cinnamon sugar evenly on both sides of brioche slices; shake off excess. You will have some cinnamon sugar left over.
Place brioche in Zones 1, 2 and 3 of Brava metal tray.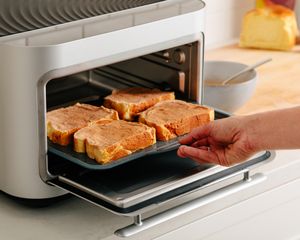 3
Slide metal tray into bottom oven shelf
Select "Cinnamon Toast" on your oven touchscreen and follow instructions
4
Finish & serve
When your food is done, cut toasts in half and arrange on plates.
Scoop a generous spoonful of whipped yogurt on each plate. You will have some yogurt left over. Garnish toasts and yogurt with pistachios and currants.
Feel free to make more toast with leftover cinnamon sugar and yogurt!