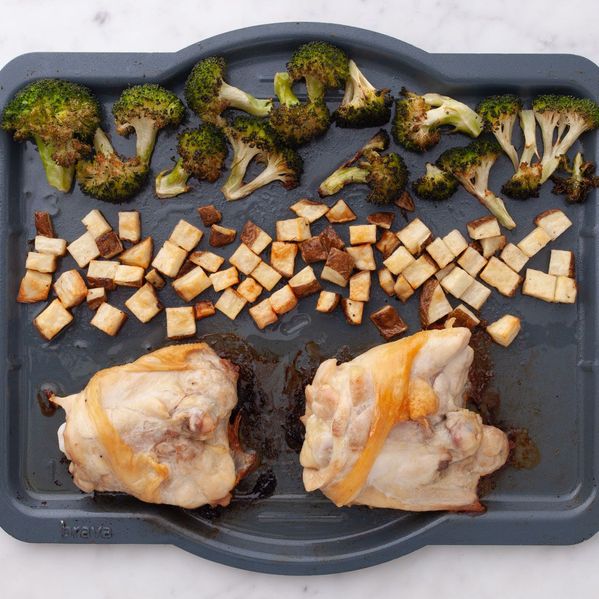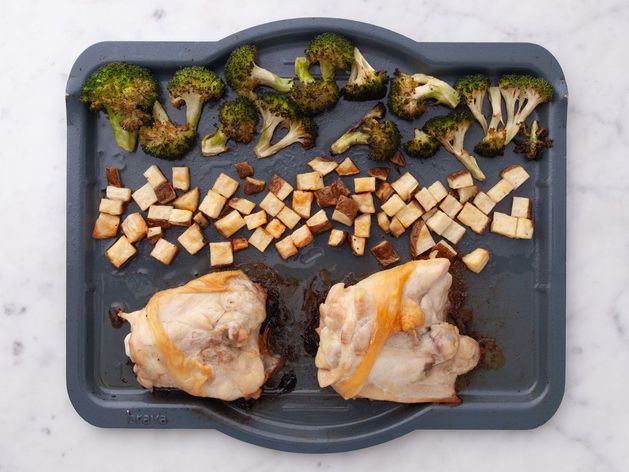 Ingredients
1 bone-in, skin-on chicken thigh
1½ cups broccoli florets (2-inch pieces)
½ cup diced potato (½-inchpieces)
From Your Pantry
kosher salt
cooking oil
Equipment
Brava metal tray
mixing bowl
Nutrition Information
Allergens: None
Tags
Lunch
Dinner
Combo
Kid Friendly
Whole30®
Basic Combos
Chicken
Dairy Free
Gluten Free
Keto
Metal Tray
Paleo
Potatoes
Serves 2
Nutrition Information
Allergens: None
Keywords
Lunch
Dinner
Combo
Kid Friendly
Whole30®
Basic Combos
Chicken
Dairy Free
Gluten Free
Keto
Metal Tray
Paleo
Potatoes
Serves 2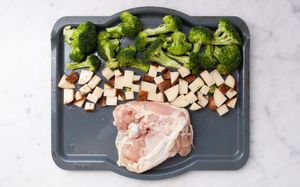 1
Recipe Instructions
Pat chicken dry with paper towels.
Season both sides with salt.
Place chicken, skin side down, in Zone 1 of Brava metal tray.
In medium bowl, toss together potato and broccoli, 1 tablespoon cooking oil and a pinch of salt.
Evenly spread potatoes in Zone 2 of metal tray.
Evenly spread broccoli in Zone 3 of metal tray.
Slide metal tray into bottom oven shelf.
Select "Chicken Thighs (Bone-In and Skin-On), Potatoes and Broccoli" on your oven touchscreen and follow instructions.