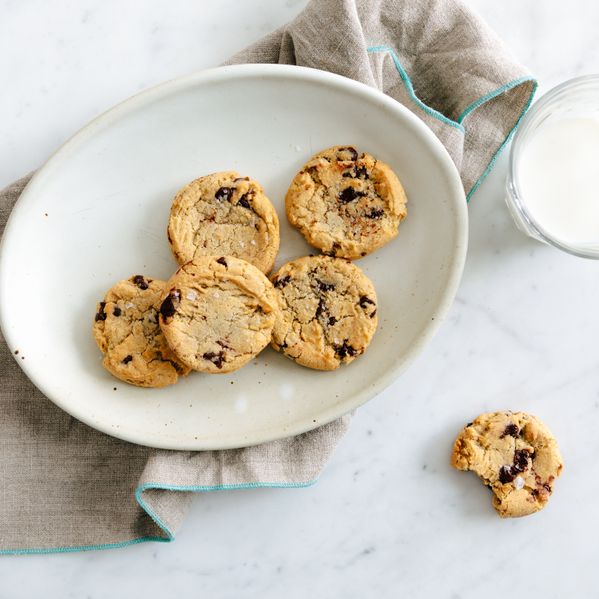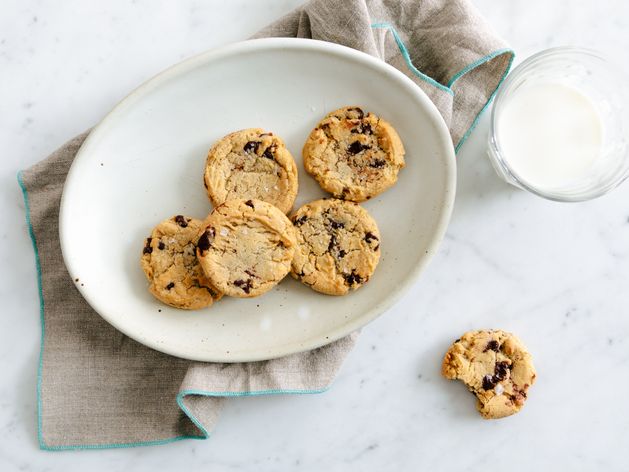 Ingredients
1 ½ cups all-purpose flour
½ teaspoon baking soda
½ teaspoon kosher salt
1 stick (¼ lb) unsalted butter
⅓ cup plus 1 tablespoon granulated sugar
⅓ cup plus 1 tablespoon packed dark brown sugar
1 egg
1 cup Semi-sweet chocolate chips
From Your Pantry
kosher salt
flaky sea salt
Equipment
mixing bowls
stand mixer (optional)
Brava metal tray
wire cooling rack
Nutrition Information
Allergens: Milk, Eggs, Wheat (Gluten)
Tags
Sweets
Kid Friendly
All American
Desserts
Metal Tray
Snack
Year Round
Nutrition Information
Allergens: Milk, Eggs, Wheat (Gluten)
Keywords
Sweets
Kid Friendly
All American
Desserts
Metal Tray
Snack
Year Round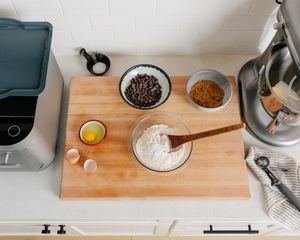 1
Prep cookie dough
Pro Tip: Leave butter and eggs at room temperature for 1 hour before beginning. This will soften butter for easy mixing and ensure more even distribution of eggs in the dough.
In medium bowl, stir together flour, baking soda and kosher salt.
In bowl of stand mixer with paddle attachment or in large bowl with wooden spoon, combine butter and granulated sugar; mix until creamy and well incorporated.
Add brown sugar; mix well.
Add egg; mix well.
Add flour mixture and chocolate chips and mix well; continue to mix for 30 seconds to thoroughly blend dough.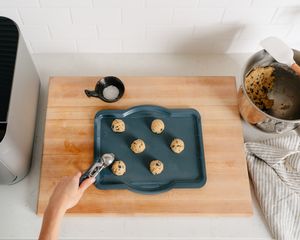 2
Portion cookies
Pro Tip: For thicker, chewier cookies, portion dough, cover and let rest in refrigerator for at least 1 hour before baking. For thinner, crispier cookies, bake right away. Portioned cookie dough can be refrigerated for up to 3 days or frozen for up to 3 months.
Scoop about 1 heaping tablespoon dough per cookie. Place 2 cookies 3–4 inches apart in each zone of Brava metal tray (total of 6 cookies).
Sprinkle tops of cookies with flaky sea salt.
3
Preheat oven, then bake cookies
Select Bake. Set temperature 325°F and set timer for 10 minutes. Press green button to begin preheating.
Once preheated, after 3–4 minutes, slide metal tray into top oven shelf. Bake until tops of cookies are golden brown, 10–12 minutes.
4
Cool cookies & serve
When your food is done, transfer cookies to wire rack to cool before serving.
When tray is cool enough to handle, wipe it out. Preheat oven again to 325°F before baking additional batches of cookies.
Any leftover cookies can be stored in an airtight container at room temperature for 2–3 days.