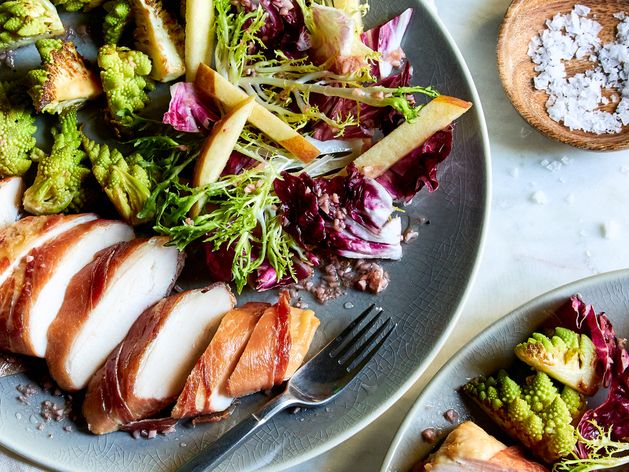 Ingredients
1 head romanesco
2 boneless, skinless chicken breasts (6 oz each and about 1 inch thick)
2 oz Creminelli prosciutto (4 slices)
1 peeled shallot
2 tablespoons sherry vinegar
1 head radicchio
1 head frisée
1 organic fuji apple
From Your Pantry
cooking oil
extra-virgin olive oil
kosher salt and black pepper
Equipment
Brava metal tray
Brava TempSensor
mixing bowls
Nutrition Information
640 calories per serving
Allergens: None
Tags
Dinner
Meal Kit
Whole30®
California
Chicken
Dairy Free
Date Night
Entree
Gluten Free
Italian
Keto
Mediterranean
Metal Tray
Paleo
Signature Entree
Weeknight
Nutrition Information
640 calories per serving
Allergens: None
Keywords
Dinner
Meal Kit
Whole30®
California
Chicken
Dairy Free
Date Night
Entree
Gluten Free
Italian
Keto
Mediterranean
Metal Tray
Paleo
Signature Entree
Weeknight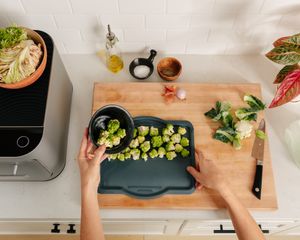 1
Prep romanesco
Cut romanesco florets into 1-inch pieces.
In medium bowl, toss together romanesco, 2 teaspoons cooking oil and a pinch of salt.
Evenly spread romanesco in Zones 2 & 3 of Brava metal tray.
2
Wrap chicken in prosciutto
Pat chicken breasts dry with paper towels.
Season chicken on both sides with a pinch of salt and pepper.
Lay 2 prosciutto slices lengthwise on a cutting board, overlapping long edges by about ½ inch. Place 1 chicken breast on prosciutto and wrap it as tightly as possible. Repeat with remaining chicken breast and prosciutto.
Place chicken in Zone 1 of metal tray. Make sure thickest chicken breast is on left side of Zone 1.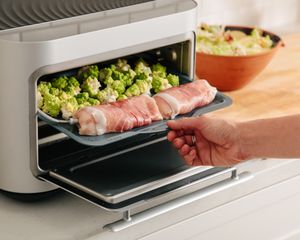 3
Slide metal tray into top oven shelf
Select "Prosciutto Chicken" on your oven touchscreen and follow instructions.
After plugging in TempSensor, insert it horizontally through center of chicken breast.
While food cooks, prepare vinaigrette and salad.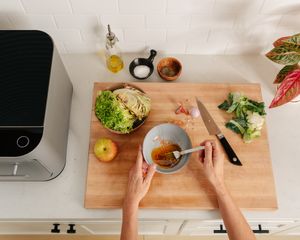 4
Make vinaigrette
Finely chop 2 teaspoons shallot. You will have some shallot left over.
In small bowl, combine chopped shallot, sherry vinegar, ¼ cup extra-virgin olive oil and a pinch of salt and pepper; stir well.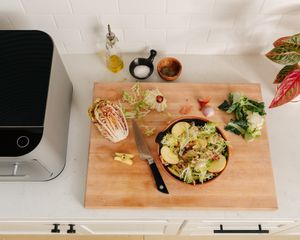 5
Prep salad
Cut radicchio in half lengthwise and remove core. Chop half of radicchio into 1-inch pieces. You will have half of radicchio left over.
Trim and discard root end and outer green leaves of frisée. Separate remaining frisée into individual leaves.
Halve apple and remove core; cut apple into ¼-inch slices.
In medium bowl, toss together radicchio, frisée and apple.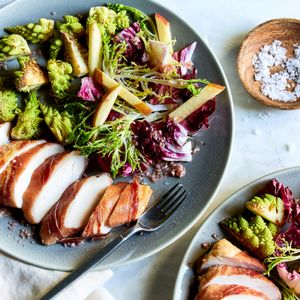 6
Dress salad & serve
When your food is done, cut chicken crosswise into slices.
Add half of vinaigrette to salad, season with salt and pepper and toss. Taste and add more vinaigrette, if desired.
Arrange chicken, romanesco and salad on individual plates. If desired, drizzle remaining vinaigrette over chicken.