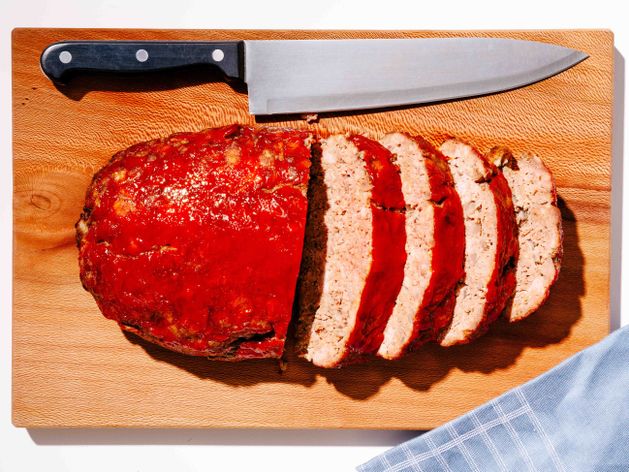 Ingredients
2 cups chopped onion (½-inch pieces, about 1 medium onion)
1 pound ground beef
1 pound ground pork
2 tablespoons Worcestershire sauce
1 tablespoon dried Italian seasoning or dried oregano
¼ cup ketchup, divided
½ cup breadcrumbs
2 eggs, lightly beaten
From Your Pantry
cooking oil
kosher salt and black pepper
Equipment
mixing bowls
Brava metal tray
Nutrition Information
Allergens: Eggs, Wheat (Gluten)
Tags
Dinner
Kid Friendly
Beef
Crowd-pleaser
Dairy Free
Metal Tray
Pork
Serves 4
Nutrition Information
Allergens: Eggs, Wheat (Gluten)
Keywords
Dinner
Kid Friendly
Beef
Crowd-pleaser
Dairy Free
Metal Tray
Pork
Serves 4
1
Cook onions
In a small bowl, toss together onions, 1 teaspoon cooking oil and a pinch of kosher salt.
Evenly spread onions in Zone 1, 2 and 3 of Brava metal tray.
Slide metal tray into top oven shelf.
Select "[Cook], [Vegetables], [Onions, Yellow], [½ inch pieces]" on your oven touchscreen and follow instructions.
While onions are cooking, prep meatloaf mixture.
2
Mix meatloaf and shape
In a large bowl add ground beef, ground pork, Worcestershire sauce, Italian seasoning, half of ketchup, breadcrumbs, eggs and a pinch of salt and black pepper.
When onions are done, cool for 5 minutes. Add cooled onions to meatloaf mixture. Using your hands, mix well so all ingredients are evenly incorporated; do not over overmix.
Scoop meatloaf mixture onto Brava metal tray. Using your hands, form mixture into a loaf that covers Zone 2 of metal tray. It's okay if meatloaf slightly spills onto Zones 1 and 3.
Evenly spread the remaining ketchup over meatloaf.
3
Cook meatloaf
Select "Bake" on your oven touchscreen. Set temperature to 350°F and timer for 45 minutes. Press green button to begin preheating.
When oven is preheated, slide metal tray into bottom oven shelf. Press green button again to begin baking.
4
Finish & serve
When your food is done, transfer meatloaf to a platter. Let meatloaf cool for a few minutes before slicing into individual portions.