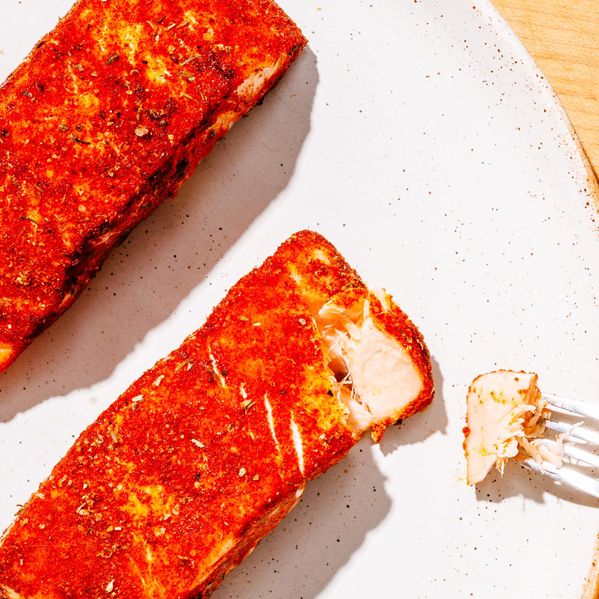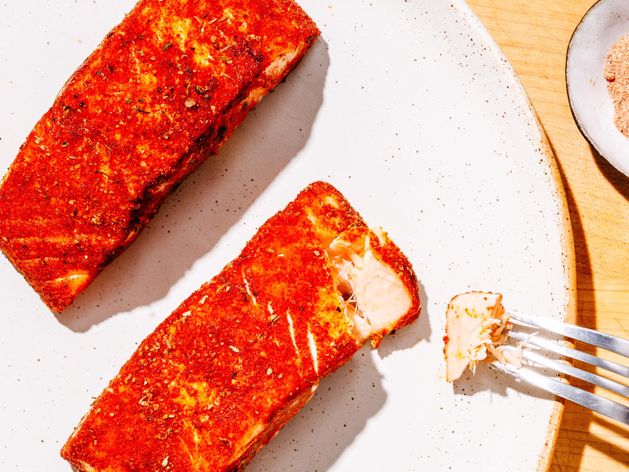 Ingredients
2 tablespoons paprika
¼ teaspoon cayenne pepper
1 tablespoon onion powder
2 teaspoons kosher salt
½ teaspoon ground white pepper
½ teaspoon ground black pepper
¼ teaspoon dried thyme
¼ teaspoon dried oregano
2 skinless salmon fillets (1–1½ inches thick)
From Your Pantry
butter
flaky sea salt (optional)
Equipment
mixing bowl
Brava glass tray
Brava TempSensor
Nutrition Information
Allergens: Milk, Fish
Tags
Lunch
Dinner
Kid Friendly
Fish
Glass Tray
Gluten Free
Keto
Paleo
Seafood
Serves 2
Serves 4
Nutrition Information
Allergens: Milk, Fish
Keywords
Lunch
Dinner
Kid Friendly
Fish
Glass Tray
Gluten Free
Keto
Paleo
Seafood
Serves 2
Serves 4
1
Prepare blackening seasoning
Let 2 teaspoons butter stand at room temperature for 15–30 minutes to soften.
In small bowl, stir together paprika, cayenne pepper, onion powder, kosher salt, white pepper, black pepper, thyme, oregano.
Evenly rub seasoning all over salmon.
2
Cook salmon
Spread butter on Zone 2 of Brava glass tray. Any uncovered butter may burn, so spread only enough for the fish to cover it.
Place salmon on top of butter. Make sure thinnest salmon fillet is on left side of Zone 2.
Slide glass tray into bottom oven shelf.
Select "Blackened Salmon (Skinless)" on your oven touchscreen and follow instructions.
After plugging in TempSensor, insert it horizontally through center of thickest portion of salmon.
3
Slice salmon & serve
When your food is done, transfer salmon to cutting board and slice in half. This will stop the cooking process and maintain your preferred doneness.
If desired, sprinkle with flaky sea salt.