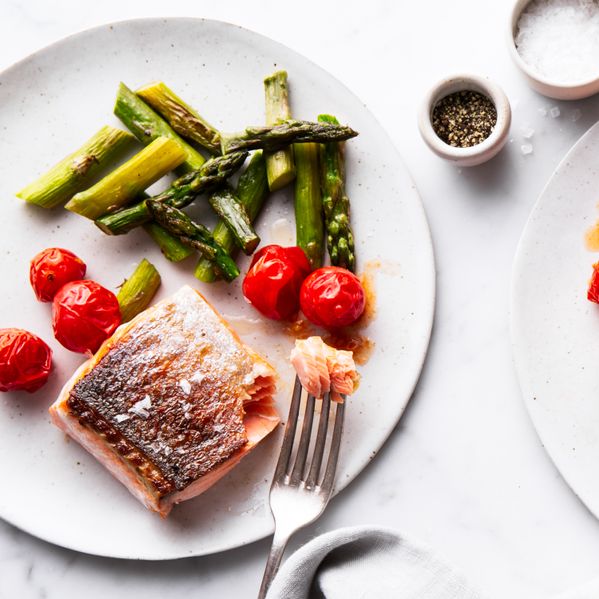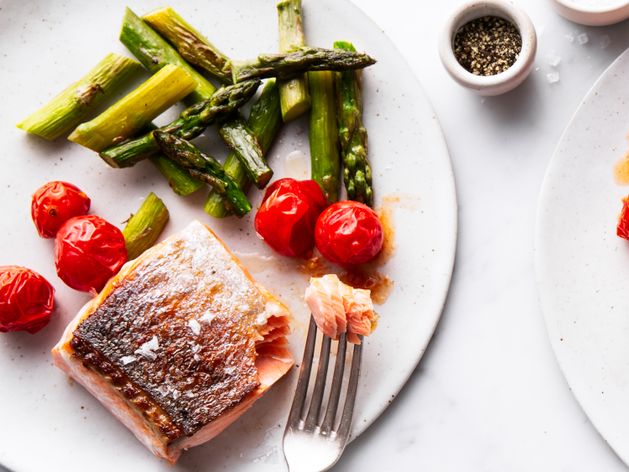 Ingredients
1 teaspoon butter
10 oz medium asparagus spears (about 15 spears)
6 oz organic cherry tomatoes (about 1½ cups)
2 Ora King salmon fillets (about 6 oz each and 1–1½ inches thick)
¼ oz fresh thyme
From Your Pantry
cooking oil
extra-virgin olive oil
kosher salt
flaky sea salt (optional)
Equipment
Brava glass tray
Brava TempSensor
mixing bowl
Nutrition Information
430 calories per serving
Allergens: None
Tags
Chef's Picks
Lunch
Dinner
Meal Kit
Entree
Fish
Glass Tray
Gluten Free
Keto
Seafood
Serves 2
Signature Entree
Year Round
Nutrition Information
430 calories per serving
Allergens: None
Keywords
Chef's Picks
Lunch
Dinner
Meal Kit
Entree
Fish
Glass Tray
Gluten Free
Keto
Seafood
Serves 2
Signature Entree
Year Round
1
Prep vegetables
Let butter stand at room temperature for 15–30 minutes to soften.
Trim bottom 2 inches of asparagus. Cut asparagus into 2-inch pieces.
In medium bowl, toss together asparagus, 1 teaspoon cooking oil and a pinch of salt.
Evenly spread asparagus in Zone 3 of Brava glass tray.
Remove stems from cherry tomatoes. In same bowl, toss together tomatoes, 1 teaspoon cooking oil and a pinch of salt.
Evenly spread tomatoes in Zone 1 of glass tray.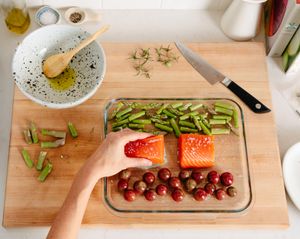 2
Prep salmon
Spread about half of butter on Zone 2 of glass tray. Any uncovered butter may burn, so spread only enough for the fish to cover it.
Pat salmon dry with paper towels. Season fish on both sides with a pinch of salt.
Place salmon, skin side down, on top of butter. Make sure thinnest salmon fillet is on left side of Zone 2.
Top each fillet with a few thyme sprigs.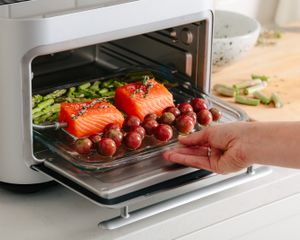 3
Slide glass tray into bottom oven shelf
Select "Ora King Salmon Fillet" on your oven touchscreen and follow instructions.
After plugging in TempSensor, insert it horizontally through center of salmon fillet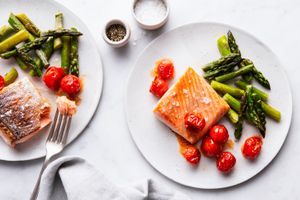 4
Serve
When your food is done, cut salmon in half crosswise. This will stop the cooking process and maintain your preferred doneness.
Arrange vegetables on individual plates and place salmon on top. Sprinkle with flaky sea salt, if desired, and drizzle with extra-virgin olive oil.